#WeAreTogether: Students provide mental health support to thousands during lockdown
17 November 2020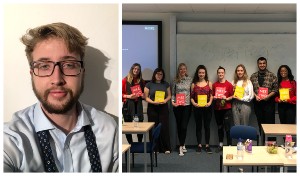 Dozens of students at the University of Reading are volunteering their time to support young people with their mental health during the second Covid-19 lockdown.
Psychology students teamed up with the NHS-approved mental health app MeeTwo during the spring lockdown, with 23 volunteers helping provide responses to 40,000 young people across the UK who expressed worries and concerns. As the second lockdown gets under way, 42 Reading students are actively offering their support.
The Super-Peers initiative was created by Psychology undergraduate student Thomas Freeney, and has developed into a placement scheme to allow other students in the School of Psychology to use their skills to help other young people affected by the pandemic and other concerns.
Thomas said: "Knowing that the work I did to develop the Super-Peer programme has helped so many young people is truly amazing. MeeTwo is a fantastic community and being a Super-Peer is hugely rewarding because every reply you leave lets someone know that they matter. The experiences I had with MeeTwo from my placement onwards have helped to shape my career choices.
"The initiative also shows the positive contribution university students make to the wider community, and how we can all do our bit to help others in these difficult times."
MeeTwo is a multi-award winning mental help app for young people aged 11-25. It provides users with a safe space to anonymously post mental health problems and share advice, so they can help themselves as well as each other.
Thomas approached co-founders Suzi Godson and Dr Kerstyn Comley soon after it launched in 2017 to ask if he could fulfil his undergraduate placement as a moderator for the app.
He was initially tasked with replying to posts as a way of getting to know how the app worked, however he quickly realised that his undergraduate psychology training distinguished him from other peers. Within the app, Tom was just another anonymous other user, but he was, in effect, a 'Super Peer'. Tom realised that he was onto something, so he began to recruit and train fellow students to help him.
Over the next two years, he worked with the MeeTwo founders to develop the Super-Peer training, and went on to actively promote this to other students within the School of Psychology. The students receive course credits in exchange for volunteering 80 hours of their time remotely within the MeeTwo app.
More than 100 people have completed the Super-Peer training programme and the scheme is now being rolled out to other universities around the country.
Dr Comley, co-founder of MeeTwo Education, said: "The MeeTwo Super-Peer programme ensures that every young person who posts on the app gets a good reply, and no one is left out. Tom's scheme has been a phenomenal success, both with users, and students."
Amanda Branson, Undergraduate Programme Director and Placements Tutor in the School of Psychology at the University of Reading, said: "I was exceptionally proud of Tom's achievements. He demonstrated professionalism, proactivity and passion throughout - qualities we love to see in our students.
"Volunteering for MeeTwo enables students to gain valuable knowledge, skills and experience with common mental health difficulties faced by young people, whilst also providing much needed peer support. It is just one example of how our students make a difference to others and the local community during their time in Reading."
Nearly 200 Psychology students at the University of Reading use their placements as an opportunity to volunteer with charitable organisations every year. This builds essential skills for their future career paths while benefiting many organisations and people at both local and national level.
Organisations interested in offering placement opportunities to students can contact placements@reading.ac.uk
The University of Reading has been contributing cutting edge research, volunteers and initiatives to help tackle the Covid-19 pandemic and its effects. Find out more here.
Find out more about the ways that the University works in partnership with Reading organisations and businesses, and the economic and social contribution that the University makes to the Thames Valley region, here.
Image caption: Thomas Freeney (L) and Super-Peer volunteers with the MeeTwo app (R) at the University of Reading