#UoRWay: Self-isolating students supported with daily food deliveries
17 November 2020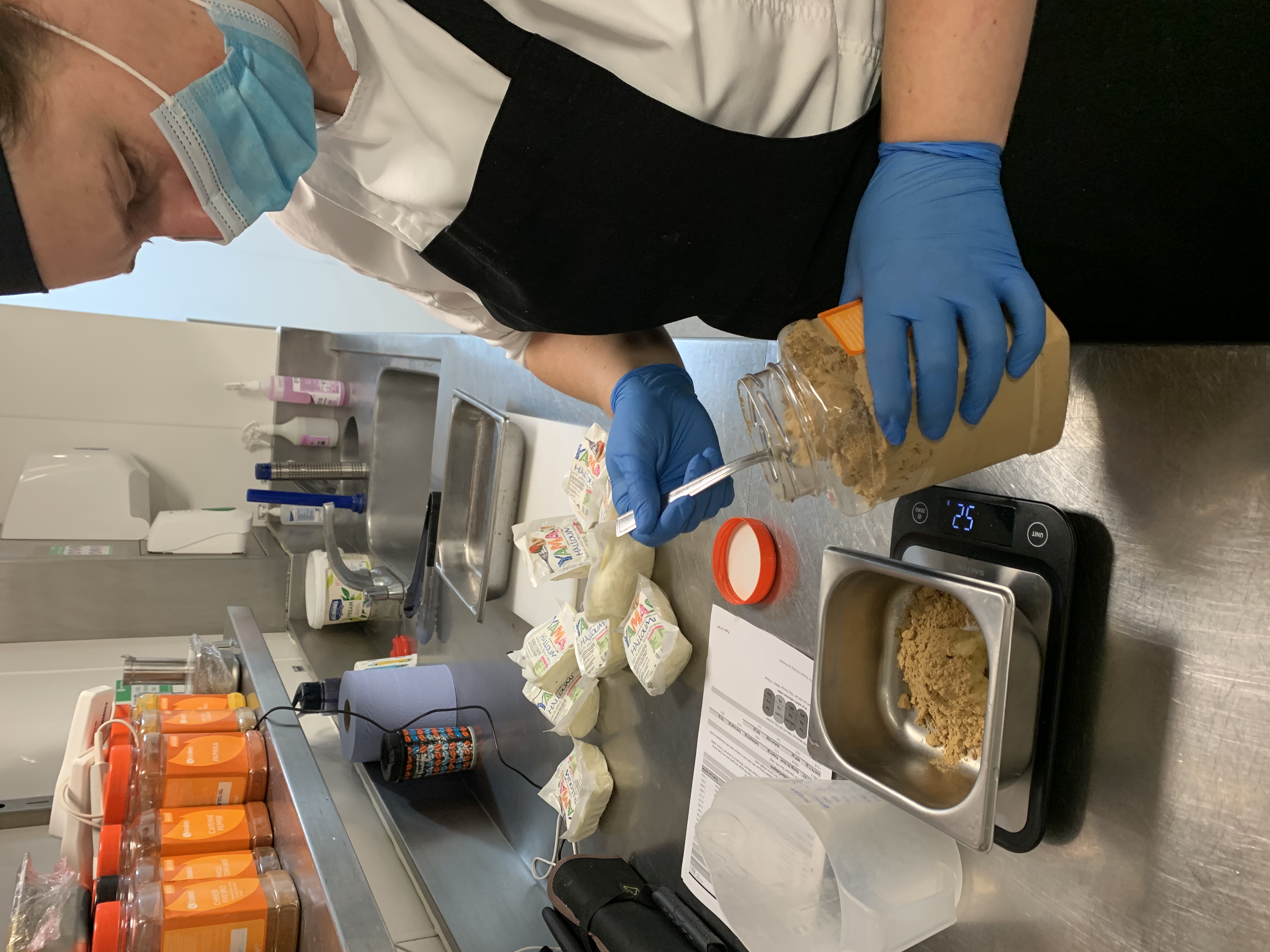 Students who are self-isolating or quarantining in halls of residence are staying well fed thanks to the efforts of the University's dedicated catering team.
Students who are displaying symptoms of Covid-19, or have been in contact with someone who is, are being provided with daily food parcels while they self-isolate in their rooms.
The University's catering service is providing students with a range of food options, depending on their catering plan, allergy and dietary requirements.
Students who are on full or partial catered plans receive one hot meal per day, which has been cooked and prepared on site by university staff using fresh ingredients.
All students receive fresh fruit with their deliveries, and those students who are living in halls of residence with cooking facilities also receive fresh vegetables.
All students, including those on self-catered plans, can also request a grocery box, free of charge, which includes ingredients such as pasta, rice, noodles, tinned tomatoes, pasta sauce and biscuits. Students receive enough ingredients to last between seven and 10 days.
The three types of catering plan are outlined below:
Students who are on a fully catered plan receive one hot meal per day, delivered at lunchtime, two cold meals to cover dinner and breakfast (such as pasta salad, cereal and UHT milk), and snacks including cake and biscuits. Their daily menu changes day-to-day depending on what seasonal meals, using fresh local ingredients, are being prepared in the kitchens.
Students who are on a partially catered plan receive one hot meal per day, delivered at lunchtime, plus daily cake and snacks.

Students who are on a self-catered plan can request a grocery box, free of charge, so they can continue to prepare their own meals in halls kitchens, where social distancing allows. Students on a self-catered plan are also given the opportunity to upgrade to a fully catered package for £72.80 per week - or just over £10 a day - the same amount that fully catered students currently pay.
Food parcels are prepared on site by University catering staff using fresh, locally sourced (where possible) produce, and delivered daily at lunchtime. All meals are homecooked on site, with no ready-meals being delivered to students.
Grocery boxes are prepared by University catering staff, and delivered by staff from the University's accommodation partner UPP daily, up to 9pm. Food parcels are delivered to the students' door, or to the door of their flat. Students are asked not to open the door while deliveries are being made in order to keep staff members safe.
Meals are delivered in line with the allergy and dietary requirements declared by the student. If a student declares they are self-isolating less than two hours before delivery, the student is given a vegan meal in the first instance, and any subsequent meals can be changed.
Students who have declared they are self-isolating are provided with catering details by UPP staff and provided details on how to register for supermarket deliveries, if that is what they would like to do. The University's Park Market will also soon be offering online ordering and home delivery, giving self-isolating students even more choice.
Matt Tebbit, head of residential catering and bars, said:
"Our number one priority is to keep all our students safe and well, so keeping self-isolating students well fed with healthy, nutritious meals is a key part of that. We currently have the capacity to provide food for up to 1,000 self-isolating students at any given time.
"As well as some delicious food, we try to include fun things in the food parcels. There's nothing like a bonus extra chocolate bar or a quiz to help keep your spirits up, but the main aim is to provide them with nutritious, homecooked meals.
"I am very proud of my colleagues within the catering service, and we have received some really great feedback on the quality of the food."
The BBC Food Programme recently visited the University of Reading and commented on its "remarkable" catering operation. The programme was broadcast on BBC Radio 4 on 8 November 2020 and is available on BBC Sounds (from 18:30mins).