Record death toll shows UK climate plan failing to tackle killer heatwaves
20 November 2020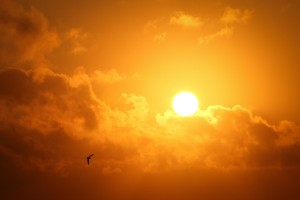 The UK still lacks a serious plan to address the invisible threat of heat, a new study has shown, despite new figures revealing heatwaves in 2020 killed record numbers of people in England.
Public Health England announced yesterday (Thursday 19 November) that the three heatwaves England experienced in June, July and August 2020 caused 2,556 excess deaths. This is the highest number since the heatwave plan for England was introduced following the 2003 Europe-wide heatwave.
Now a new study by University of Reading and King's College London argues that the UK's approach to dealing with heatwaves is inadequate compared to visible, yet far less deadly, disasters like floods and storms.
The report, published this month in journal Environment Science & Policy, is the most comprehensive review of research into impacts and policies of heatwaves in the UK. It calls for a more focused strategy to help society cope with rising summer temperatures due to climate change.
'Woeful lack of understanding'
Chloe Brimicombe, a heatwaves PhD researcher at the University of Reading and the Walker Institute, said: "If heat was as visible as floodwater, you would see politicians wading around in it on television during heatwaves demanding urgent action. But because heat is invisible, and it affects mostly older and less affluent people, its deadly impacts are largely overlooked.
"Like other disasters, heatwaves have cost the UK billions of pounds in damage to agriculture, infrastructure and productivity, yet there is a woeful lack of political and public understanding of heat as a risk."
The researchers called for a more focused response to the problem that mirrors recent investment in flooding.
"The UK is storing up problems for the future in millions of outdated heat-trap homes, poor building regulations, and lack of comprehensive emergency planning to save lives when extreme heat hits us," said Ms Brimicombe.
"There are things we can do to reduce the impact of heat on the population, such as adapting to shade and ventilate homes, and providing public warnings ahead of heatwaves. This will require investment and far more joined up thinking than we are seeing at the moment."
Risk being overlooked
The new study comes as the UK Prime Minister announced a 10-point plan for a 'Green Industrial Revolution' on 18 November, including new funding to tackle climate change. The authors of the new study say that, while this includes a plan to install 600,000 heat pumps and better insulation to help cool homes, there is still little focus on tackling heat as an increasing danger.
The plan reconfirmed a doubling of spending on flood response to £5.2bn by 2024. Data from King's College London shows that floods killed an average of four people a year in the UK between 2000-14. The August 2020 heatwave alone resulted in 1,734 deaths.
Among other findings, the scientists found:
A huge bias on floods among researchers and policymakers in the UK, with 1,766 articles published on flooding from 2000-19, more than 25 times the 68 articles published on heatwaves
Framing of floods is often framed as a 'risk', while action on heatwaves is considered an 'opportunity'
Inadequate policy, with the National Adaptation Plan only pledging to consider heat in the design of houses from 2023, and a lack of a universal definition of a heatwave
Poor management of risk between sectors, with separate approaches for health, agriculture, infrastructure and business.
Prevention as well as cure
As well as impacting health, heatwaves cause railway tracks to buckle, affect water supplies, and lower productivity, with lost staff days due to heat costing the UK economy £770m in 2010.
The 2018 Environmental Audit Committee described the UK as 'woefully unprepared' for heatwaves, and warned the number of heat-related deaths could treble to 7,000 per year by 2050 unless action is taken.
Professor Hannah Cloke, a natural hazards researcher at the University of Reading and co-author of the report, said: "Flooding is bad and looks bad. Heatwaves kill people, but are sometimes treated as 'lovely hot weather'. We need to change this mind set, particularly as the UK climate heats up.
"We must also spend more on prevention as well as cure. Cutting carbon emissions faster and providing better warnings ahead of heatwaves will have further benefits than just getting used to the heat."
Professor Rosalind Cornforth, Director of the Walker Institute at the University of Reading, which aims to build climate resilience globally, said: "Extreme heat may be somewhat overlooked in the UK, but in other countries the impacts are far more obvious.
"If the UK's summers become lethally hot, other parts of the world will become uninhabitable unless we take action to curb the worst effects of climate change."