Reading in the news - Wed 25 Nov
25 November 2020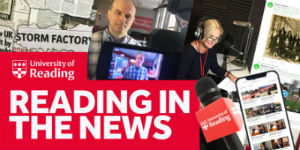 COVID-19: expert comment on the coronavirus pandemic
Dr Simon Clarke (Biological Sciences) spoke to Good Morning Britain (Monday), BBC Radio 5 Live, LBC Radio and BBC Radio London about the Christmas restrictions, and answered viewer questions on BBC South Today. Dr Clarke was also quoted in several regional outlets, including Belfast Live and Wales Online, about the new tier system; in Research Professional News on post-lockdown plans; and a news round-up in AlKhaleej Today on the latest effectiveness reports on various vaccines trials.
Prof Ian Jones (Biological Sciences) was interviewed on Russia Today about the latest data from the Sputnik V vaccine and vaccine roll-out in general. He was also quoted in Mail Online, The Sun, Metro, RTE.ie, The Irish Examiner, New Scientist and several other national and regional outlets, also on the Russian vaccine, and in The Times (print) on the Oxford vaccine.
Joy Online quotes Dr Jane Parker (Food) for a story on the loss of smell and taste in Covid-19 patients.
#WeAreTogether: Reading's work to tackle the coronavirus crisis. Read our round-up
BBC Radio Berkshire spoke to Deputy Vice-Chancellor Professor Parveen Yaqoob about the latest plans to test students ahead of them going home for Christmas.
The Wokingham Paper reported on how University of Reading students have been supporting young people with their mental health during the second lockdown as part of the Super-Peers initiative started by psychology student, Thomas Freeney. Read our news story.
Nazareth dig: Professor Ken Dark (Economics) spoke to Talk Radio and BBC Radio Stoke following the launch of his new book, which covers the study of a former convent excavated in Nazareth which he believes stands on the site of Jesus' childhood home. Further coverage in Fox News Online, Metro, International Business Times, India Times, Inside Edition and other international and US news sites.
Other coverage
BBC Radio Berkshire spoke to Prof David Pendleton (Henley Business School) about his interview on leadership for Henley Business School's Leading Edge podcast series.
BBC Radio Berkshire interviewed Dr Mark Shanahan (Politics & International Relations) about outgoing US President Donald Trump continuing to contest the result of the election.
A timeline of Bracknell's redevelopment featured in Bracknell News has sourced its entries from The Lexicon - Making it happen by Henley Business School.
InVision, Xbox Addict and several German gaming sites, including Gamezone.de, InsideXbox.de, reference the University's involvement in developing a new farming simulation game, designed to environmentally friendly agriculture into game play.
Polish site KierunekSpozywczy.pl quotes Dr Sylvia Jaworska (English) in an article about the health claims on food and drinks packaging.
A 'what to take to university' article on TechSite includes a checklist from Jennifer Corless, pupil engagement director at the University of Reading.
Dr Steven Devaney (Real Estate) co-authored an article for IPE Real Assets on taking a transaction-based approach to commercial property rental growth.
A number of Brazilian websites, including Terra, report on young business leaders often suffering from imposter syndrome, and quote Professor Ben Laker (Henley Business School).
PreventionWeb reports on new research on the impact of heatwaves on human health. PhD student Chloe Brimicombe is quoted.