Reading in the news - Tue 24 Nov
24 November 2020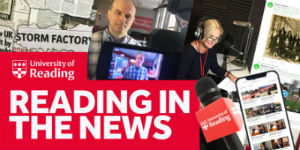 COVID-19: expert comment on the coronavirus pandemic
Dr Simon Clarke (Biological Sciences) is quoted in The Times about the Oxford University vaccine; and in the Daily Mail (in print) about a trial using Turmeric and other plant products might be used to increase immune response to COVID-19; and in GetReading about tougher tiered restrictions to be introduced in December.
Dr Clarke also answered listener's Covid questions for an hour-long phone in on BBC Oxford, responded to the Prime Minister's 'winter plan' for post-Lockdown 2.0 with BBC Radio Berkshire and was interviewed on the Oxford University vaccine with BBC Ulster and BBC Foyle. Dr Clarke's appearance on BBC South Today on Tuesday to answer viewer's questions was trailed in Monday's teatime and evening bulletins.
The Week quotes Professor Ian Jones (Biological Sciences) about vaccine 'passports'.
#WeAreTogether: Reading's work to tackle the coronavirus crisis. Read our round-up
Nazareth dig: Further coverage of a new book by Professor Ken Dark (Economics) which covers the study of a former convent excavated in Nazareth which he believes stands on the site of Jesus' childhood home, in The Sun, Mail Online, UniLad, Russia Today and other international sites.
Other coverage
A letter in the Times signed by Professors Mike Fulford and Steve Mithen (Archaeology) supports the development of a new tunnel near to the Stonehenge site in Wiltshire.
Food research scientist Tai Ibitoye spoke to BBC Radio Berkshire about her work and highlights some key nutrition research trials requiring volunteers from the local community.
New research by Professor Jeremy Spencer (Food) about enzyme-enriched bread improving flavanol content is covered in Medical Xpress and Seed Navigator. Read our news story here.
Food Navigator further cover a EIT Food-funded project led by Dr Simona Grasso (Agriculture) looking at consumer attitudes towards 'hybrid meats'. Read our news story here.
Environment Journal further cover new research on the impact of heatwaves on human health. Lead author Chloe Brimicombe, Professors Hannah Cloke (Met and GES) and Ros Cornforth (Walker) are quoted. Read our news story here.
Further coverage of Health Claims Unpacked led by Professor Rodney Jones (English Language) in New Food Magazine.
Reading Chronicle cover a petition about land formerly owned by the University in Lower Earley.