Reading in the news - Thu 26 Nov
26 November 2020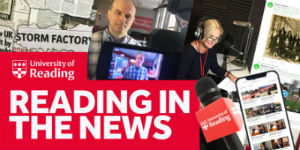 Guardian awards: The winners of the Guardian awards have been announced by Guardian Online. Reading was runner up in the 'Marketing and comms campaign' for the 'Show your Stripes' campaign, and also runner-up in the 'Research impact' category for research that helped approve the use of CBD to help patients with sever epilepsy.
COVID-19: expert comment on the coronavirus pandemic
Dr Simon Clarke (Biological Sciences) was on BBC Radio 2's Jeremy Vine show talking about herd immunity; on BBC Radio 5 Live Breakfast on the UK government's post-lockdown tier restrictions. His comments were used in bulletins on BBC Radio 2 and across the BBC network; he was also interviewed on BBC Radio Berkshire about restrictions locally.
Dr Clarke was also quoted in Reuters for a piece on self-isolation; The Guardian (print also) on Christmas; and Mail Online and local media outlets around the country on the likelihood of a third wave
Prof Ian Jones (Biological Sciences) is quoted in Mail Online on the Oxford vaccine; MSN and Yahoo on coronavirus mutations; in The Science Times and VDare on the Sputnik V vaccine; in The National on Covid passports; and in The National again on vaccine rollout.
#PlanetPartners: UK foreign office minister Wendy Morton MP tweets about Reading's 'world-leading science taking UK response to disasters to the next level'. Flooding, weather and climate experts from Geography & Environmental Science, Meteorology and partners, including the European Centre for Medium-Range Weather Forecasts (ECMWF) in Reading, led by Dr Liz Stephens (Geography), are guiding targeted aid to the worst-hit regions of Honduras following Hurricanes Eta and Iota. Read our news story.
Nazareth dig: Further coverage of a new book by Professor Ken Dark (Economics) which covers the study of a former convent excavated in Nazareth which he believes stands on the site of Jesus' childhood home, in The Express, BBC Berkshire Online and multiple international sites.
Return of sports fans: Prof James Reade (Economics) wrote an article for Forbes on the long-awaited return of fans to Premier League stadiums, and the complications that surround it.
Other coverage
PhD researcher Francesca Baldwin spoke to PowerFM and Voice of the Cape about the crisis in Ethiopia.
A former University of Reading student and native Welsh speaker spoke to BBC Radio Berkshire about the importance of the Welsh language.
Dr Tara Pirie (Ecology and Evolutionary Biology) was part of the coffee club on BBC Radio Berkshire discussing, among other things, the move of the Cole Museum into the new Health and Life Sciences building.
Monmouthshire Beacon (print) reports on the success of Reading student Mathilda Hodgkins-Byrne at the women's Championship of the Thames sculling race.
Prof Andrew Kakabadse and Dr Filipe Morais (both Henley Business School) co-authored an article for University Business (print) on governance in university councils.
The Daily Star reports on former University of Reading student, Amber-May Ellis, who had a tattoo of Ian Beale from Eastenders on her leg.
Saudi researcher and former reading student, Abdullah Al-Farsani, spoke to AlKhaleej Today about his research into the link between triclosan and breast cancer.
Newsweek, MSN and The Express quote a tweet by Prof Kate Williams (History) for an article following the sad revelation of Meghan Markle's miscarriage earlier this year.
New research by Professor Jeremy Spencer (Food) about enzyme-enriched bread improving flavanol content is covered in Nutra Ingredients, Bakery and Snacks and Knowridge Science Report. Read our news story here.
British Farmer and Grower (print) reports on two Kent students who have received the Kent County Agricultural Society's scholarship scheme bursary who have used the money to study agriculture in higher education. One of the students, Alice Edmonds, now studies Food Marketing and Business Economics at the University of Reading.
Bee Craft (print) reports on a Zoom lecture being given by PhD student Ayla Paul, in February on UK honey samples.
The Tab includes Reading in a list of top 50 universities where students are most likely to achieve a 2.1 result.
MBA.co.za reports that Henley Business School South Africa will be conferring a record number of degrees and diplomas at virtual graduation ceremonies this month.
Farming Life reports on the results of a five-year study carried out by Reading scientists into herbal leys.
An article in IGN references Reading research into Pterosaurs. Read our news story.
Further coverage in gaming sites, including Capsule Computers, about our involvement in developing a new farming simulation game, designed to bring environmentally friendly agriculture into game play.
Russian site Vlast.kz features an interview with a Geography postdoc at Reading who is working on a project studying impact of climate change on water resources in Central Asia.
Further coverage of comment from Prof Ben Laker (Henley Business School) on why young business leaders often suffer from imposter syndrome in multiple South American news sites.
The Wokingham Paper reports on land previously owned by the University that has recently had a number of trees and vegetation cleared by the new owners.
Prof Chukwumerije Okereke (Geography) is quoted in Citi Business News on how Ghana's oil industry must avoid making the same mistakes as Nigeria.