Partnership with Royal Berkshire NHS Foundation Trust sees third hospital department awarded University status
27 November 2020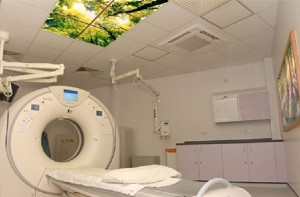 The Radiology department at the Royal Berkshire NHS Foundation Trust has been awarded University status.
It is the third specialty to be awarded University status in recognition of excellence in a number of areas, including clinical outcomes, collaborative research and development and staff professional development and education. It joins the Cardiology and Emergency Departments, who were awarded this prestigious accolade last year.
The University of Reading and Royal Berkshire NHS Trust's Joint Academic Board was established in March 2018 and is an exciting partnership committed to a three-year programme of collaborative research and education, funding innovation and to recognise clinical and academic excellence in both organisations.
With over £1 million in research funding acquired in the last three years, the dedicated radiology research team has been integral in leading and developing on a number of improved clinical outcomes for patients. Recent projects have included GENESIS - a novel procedure for patients with Osteo-Arthritis in the knee being developed in collaboration with the University of Reading School of Psychology and Clinical Language Sciences, IDEAL- Artificial intelligence which was designed and has improved lung cancer diagnosis and Brainomix which has led to faster and improved diagnosis of acute stroke.
The radiology department is one of the largest within the Trust with members of the team working in multi-disciplinary specialities and spread across the Emergency Department (formerly known as A&E), orthopaedics and ICU. In addition, the team works across a number sites including the RBH, West Berkshire Community Hospital in Thatcham, Bracknell Healthspace and Townlands Memorial Hospital in Henley. With an excellent track record of structured staff learning and development; working with external companies has led to a wide range of opportunities for the team.
Professor Adrian Williams, Research Dean at the University of Reading, said: "We are immensely proud of the growing partnership with the Royal Berkshire NHS Foundation Trust and delighted to recognise the excellence demonstrated by the Radiology Department. The opportunity to work with the RBFT by bringing our research expertise to improve clinical practice is tremendously exciting and we hope that many more patients can benefit from this partnership."
Janet Lippett, Chief Medical Officer said: "I am incredibly proud of the radiology team and the huge amount of work they have put in to gain this status – it's hugely deserved.
"Showcasing a detailed departmental portfolio, this robust process has led to the third University Department. We are delighted that radiology has demonstrated all round excellence, delivering a nationally high standard of clinical care, a great training experience and innovative, multi-disciplinary research."
Image courtesy of Royal Berkshire NHS Foundation Trust