Reading in the news - Mon 30 Nov
30 November 2020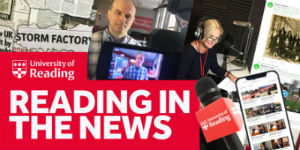 COVID-19: expert comment on the coronavirus pandemic
#WeAreTogether: Reading's work to tackle the coronavirus crisis. Read our round-up
Deputy Vice-Chancellor Professor Parveen Yaqoob spoke to Research Professional about the University's plans to begin mass testing students ahead of the Christmas holidays this week.

Reading student Matthew Payne spoke to BBC Hereford and Worcester about booking a lateral flow covid test, describing the "simple and easy" system for booking a test, and some of the uncertainty about returning to University after the Christmas holidays.
Flooding: The Independent quotes Professor Hannah Cloke (GES) on an Environment Agency report suggesting the most vulnerable people are most affected by flooding. Professor Cloke is also quoted by The Atlantic on flood forecasting.
Poetry teaching: Times Education Supplement interviews Kate Clanchy (English Literature) on her poetry teaching techniques that have raised confidence in children and led to some having their work published.
Other coverage
A BBC Four documentary about Scottish Iron Age settlements features visiting Reading classicist Matthew Nicholls.

A Reading study (Biological Sciences) on the links between an agent found in toothpaste and other products and breast cancer is covered widely in Saudi Arabian press, including by sabq.org.
New York Post, Lad Bible, Daily Beast, Global Diaspora News, the Algemeiner report on the book published by Professor Ken Dark (Economics) that provides evidence pinpointing the birthplace of Jesus. Professor Dark also spoke to BBC Radio Shropshire and BBC Radio Stoke about his discovery.
Provost and CEO of University of Reading Malaysia Professor Wing Lam writes for The Star in Malaysia on the potential opportunities presented by advances in artificial intelligence.
A documentary on Nancy Astor, featuring Dr Jacqui Turner (History) and partially filmed in Special Collections, is released on Vimeo.
Al Khaleej Today and Ahval News quotes Dr Daphne Halikiopoulou (Politics & International Relations) on how Donald Trump's defeat in the US presidential elections have affected right-wing politics globally.

Dr Dafydd Townley (History) spoke to BBC Radio Wales about the transition in the US from the Trump to Biden administration.

BBC Science Focus lists the wildlife book 30-Second Zoology, edited by Professor Mark Fellowes (Biological Sciences), as one of the best books about animals and nature of this year.
New Food Magazine reports on Reading research (Food and Nutritional Sciences) showing that adding an enzyme to bread could make it a 'superfood'.
Safety Management quotes Professor Paul Almond (Law) on whether changes to regulations to boost the economy have sacrificed people's safety.

A Daily Mail column cites research by Professor Roberta Gilchrist (Archaeology) into Glastonbury mythology.

A Belfast Telegraph interview with Jamie Cullum mentions that he is a Reading alumnus.
The Guardian publishes an obituary for Erik Fudge, formerly professor of linguistic science at Reading.