Reading in the news - Fri 27 Nov
27 November 2020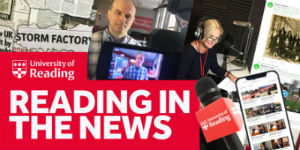 COVID-19: expert comment on the coronavirus pandemic
Professor Ian Jones (Biological Sciences) is quoted by New Scientist, Daily Mail and The National on the new vaccines and those who should be prioritised to have them.
Dr Simon Clarke (Biological Sciences) was quoted on regional BBC radio stations around the country, Heart Radio Swindon and XFM about the new allocation of tiered restrictions, and was interviewed on LBC Radio, BBC Radio Berkshire, BBC Radio Solent, BBC Radio Cumbria and BBC Radio Leicester once the tiers were announced, and quoted by Leicestershire Live and York Press.
Arab Spring: Dr Dina Rezk (History) was interviewed on BBC Radio 3 about the political discontent that led to the uprisings in Arab countries a decade ago.
Other coverage