Reading in the news - Thu 1 Oct
01 October 2020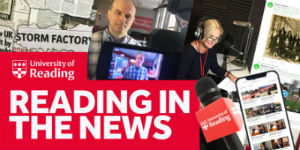 COVID-19: expert comment on the coronavirus pandemic
Prof Ian Jones (Biological Sciences) is quoted in this Guardian (print also) article on the vaccine developed in Russia. The article also appears on MSN and Yahoo.
Dr Simon Clarke (Biological Sciences) spoke to BBC Radio Berkshire following the PM's latest speech, and again about being prepared for a second wave. He also is quoted in The Daily Mail in an article about increasing cases; and in GetReading about the new 10pm curfew.
A Daily Mail article on the 10pm curfew quotes Dr Rachel McCloy (Psychology) on the why the simplicity of the rule is good for public understanding.
#WeAreTogether: Reading's work to tackle the coronavirus crisis. Read our round-up.
The Reading Chronicle (print) reports on plans for a testing centre to be based on the Whiteknights campus. The University is awaiting approval from central Government before going ahead with plans.
The Reading Chronicle also reports that the University and RUSU are warning students not to break distancing rules or hold house parties.
US presidential election: BBC Radio Berkshire and TalkRadio interviewed Dr Mark Shanahan (Politics) on the how the Trump/Biden debate went. Dr Shanahan was also quoted in Sputnik News and ArabNews24.
Confirmed COVID-19 case: Local media outlets across the country feature a story which lists Reading as one of 45 universities with a confirmed case of COVID-19 on campus. GetReading mentions the case in a round-up article of Berkshire schools with confirmed infections.
Other coverage
BBC Berkshire Online features a timelaspe of the Cole Museum's elephant skeleton, known as 'Norman', being moved to its new home in the new Health and Life Sciences Building.
The Conversation publishes a blog post by Prof Tom Oliver (Ecology and Evolutionary Biology) on global biodiversity.
The Daily Echo - Bournemouth (print) reports on the University's partnership with developer Fortitudo to help more graduates into the construction industry.
PhD student Akshay Deoras (Meteorology) is quoted by the Hindustan Times on the end of the monsoon season in Mumbai.
Teiss reports an update on the Blackbaud hack from earlier this year, which involved the University of Reading.
Prof Paul Glaister (Mathematics) has joined a consortium of academics writing open letters to the Government, in The Times (£) (print also), to consider cancelling A-Levels next year, in order to avoid another fiasco.
Local Government Lawyer reports on the news that the University has appointed six law firms to its legal services framework.
The Scientist features a story based on research carried out by Prof Kou Murayama (Psychology) which found that curiosity and hunger are driven by the same brain cells.
John Keogh (Food and Nutritional Sciences) has written a blog for The Conversation on preventing disruptions to food supply chains after COVID-19.