Reading in the News - Fri 2 Oct
02 October 2020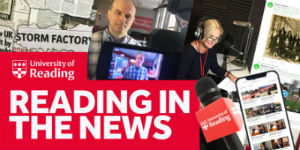 COVID-19: expert comment on the coronavirus pandemic
Flatworms: New research led by Professor Vitaliy Khutoryanskiy (Pharmacy) which found that a type of flatworm could be used as a screening tool to reduce the use of rabbits to test some clinical skin products, in Medicalxpress, UPI, RMF24, Home Health Choices, Neuvo Periodico, and MDR. Read our news story about the new research here.
Divestment: The Times (also in print) mention the University of Reading's full divestment from fossil fuels from its endowments in an article about a pledge from Cambridge University to end investments in oil and gas companies and become carbon neutral.
Other coverage
An article for Huffington Post looks at how Kate Clanchy (English) is inspiring young people to write poetry, including the son of Dr Yasmine Shamma (English) who Kate works with. BBC Radio Shropshire also spoke to Clanchy about the work.

Professor Amanda Callaghan (Biological Sciences) spoke to BBC Berkshire about the setting up of the Cole Museum in the new Health and Life Sciences building, including the reinstallation of the skeleton of Norman the Asian elephant.

The Conversation publish an article by Professor James Reade (Economics) about football finances.
Agriculture Business Management student Elliot Cole has won a Defra-sponsored climate change competition, reports Devon Live.

Impartial Reporter (in print) cover a virtual farm walk about animal welfare, and mentions that UoR is a partner on the EIT Food-funded project.