Reading in the news - Mon 5 Oct
05 October 2020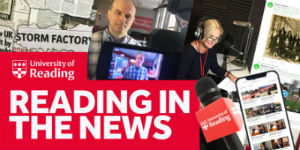 COVID-19: expert comment on the coronavirus pandemic
Dr Simon Clarke (Biological Sciences) was interviewed by Al Jazeera, TRT World and Yicai. He is quoted by New Scientist on the latest infection stats; the Daily Mail on the 10pm curfew;
Dr Rachel McCloy (Psychology) is quoted by the Daily Mail on the 10pm curfew.
Canadian Grocer publishes an article by doctoral researcher John Keogh (Henley Business School) on preventing disruption to food supply chains after Covid-19.
'Marlow Warlord': The discovery of the burial of a 6th century Anglo-Saxon chieftain, and excavation by University of Reading archaeologists, is reported by the Guardian, Telegraph, Independent, Metro, Daily Mirror, iNews, Inverse, The Art Newspaper, Medievalists.net and Yahoo News. Dr Gabor Thomas (Archaeology) spoke to BBC Three Counties Radio, along with the metal detectorist who initially discovered the site. Read our news story.
Cosmetics marketing: Professor Laurence Harwood (Chemistry) is quoted in a Mail on Sunday article on the claims made by a shower gel company about the amount of fruit and other natural products that goes into their products.
Other coverage
The Express quotes former Reading associate professor Ben Neuman (Biological Sciences) on whether the zombie drama The Walking Dead could happen in real life.
Gizmodo republishes an article written for The Conversation by Professor Tom Oliver (Biological Sciences) on areas the world is making progress on biodiversity.
Dr Ruvi Ziegler (Law) has a letter published in The Times about proposals to change the asylum seeker protection claim process.

BBC Radio Berkshire reports that the Cole Museum of Zoology's Norman the Elephant skeleton has a new home – and some new tusks – in the new Health and Life Sciences building.

The University's decision to stop investing in fossil fuels is mentioned in a Times article on action taken by universities to reduce their carbon footprint.
Science Daily and Seed Daily report on a Reading study (Pharmacy) that shows flatworms could replace rabbits for cosmetics testing. Read our news story.
Parikiaki reports that a University of Reading graduate artist is among 28 selected to be given support by the Platform Graduate Award in the South East.
Amateur Gardening report the research by Reading and RHS showing ivy was the best green plant for cooling buildings.

A Reading student (Agriculture) was praised for his sustainable farming ideas in a Young Farmers climate change challenge, reports Western Morning News.

Authority Magazine interviewed businesswoman and author Niven Postma, a Henley Business School graduate, about her career.