Reading in the news - Tue 6 Oct
06 October 2020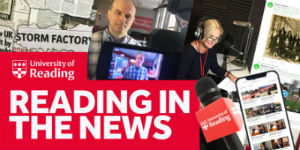 COVID-19: expert comment on the coronavirus pandemic
The Times looks at the use of health trackers to measure oxygen levels and quotes Dr Simon Clarke (Biological Sciences), and Dr Clarke was interviewed on BBC Radio London and BBC Radio Hereford and Worcester.
Dr Rachel McCloy (Psychology) is quoted in Mail Online about a club taking legal action against the Government over the 10pm curfew.
New York Times reports about a possible case of neglect which led to the death of a 12 year-old child, which may have been made worse due to the pandemic. Dr Alejandra Perotti (Biological Sciences) is quoted.
WNBC Cozi TV mention research by UoR Economics about the potential effect of allowing small numbers of spectators watch sport on case rates.
'Marlow Warlord': Further coverage of the discovery of the burial of a 6th century Anglo-Saxon chieftain, and excavation by University of Reading archaeologists, in Mail Online, BBC News site, Science Daily, Phys.org, UniLad, and the Maidenhead Advertiser, and Dr Gabor Thomas spoke to BBC Radio Berkshire. Read our news story.
Black History Month: BBC Berkshire spoke to Beth Rebisz (History) about her PhD research on British Colonialism with the Museum of British Colonialism, and about Black History Month. Read more about events taking place during Black History Month at UoR here.
Other coverage