Reading in the news - Thu 8 Oct
08 October 2020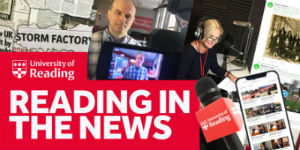 COVID-19: expert comment on the coronavirus pandemic

<!--[if !supportLists]-->

Royal accents: Professor Jane Setter (English Language) is quoted in the Times, Daily Mail and The Mirror for articles about Prince George's Estuary accent, heard when he posed questions to Sir David Attenborough.

Golden Dawn: Al Jazeera and MSN News quotes Professor Daphne Halikiopoulou (Politics and IR) about the conviction of members of the Greek far right organisation Golden Dawn for crimes including murder.

Other coverage
The Guardian report on numbers of students who have faced disciplinary action for breaking rules around social distancing, including a number of students at UoR.
The Royal Ecological Society cover a new study about pollinator monitoring led by academics from UoR. Dr Tom Breeze (Agriculture) is quoted.
Rowan Burke (Knowledge Transfer Centre) was a contestant on BBC 1's Pointless.

BBC Berkshire spoke to Pro Vice Chancellor Professor Mark Fellowes about a fly that landed on the head of US Vice President Mike Pence during a debate.

PhD researcher (Met) Simon Lee spoke to BBC Radio Berkshire about the recent wet weather in Reading in relation to it being the hottest September on record globally.
The Reading Chronicle reports on the tragic death of Clement Sutter, who fell to his death while visiting a student friend in a private accommodation block in Reading town centre.
A Getreading article on which cinemas in Reading are currently open mentions that Reading Film Theatre is currently only screening films online.
Prof Chris Hilson (Law) is quoted in this ENDS Report (£) on the government's new waste disposal targets.
Dr Roger Brugge (Met) features in The Maidenhead Advertiser and The Windsor, Ascot and Eton Express in articles about the wet start to October.
Dr Alejandra Perotti (Biological Sciences) provides expert comment for this Science Times article on the sad case of a 12 year old girl in America who died from an untreated lice infection.
A HealthNewsDigest article on solar storms mentions the University-led Solar Stormwatch II project, which looks for volunteers to help record data.