Reading in the news - Wed 7 Oct
07 October 2020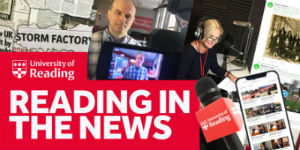 COVID-19: expert comment on the coronavirus pandemic
Dr Simon Clarke (Biological Sciences), interviewed by BBC Manchester about rising infection levels; to the Telegraph and Yahoo News (globally) about infection rates in coastal towns; quoted in New Scientist on rising northern infection rates, Daily Mail on transmission in food factories; local radio stations across the UK and the Daily Mail on face masks not working in the rain.
Professor Uma Kambhampati's (Economics) work on female leadership in the Covid crisis is covered by IDN (Indonesia).
'Marlow Warlord': Third day of coverage of the discovery of the burial of an Anglo-Saxon warrior burial found by University of Reading archaeologists, led by Dr Gabor Thomas, in Daily Express; GetReading; Bucks Free Press; Reading Chronicle; Reading.co.uk; My Marlow; News Cabal; Smithsonian Magazine (US); Archaeology Online (US); Archaeology News Network; Fox News (US); Big World Tale (US) Times Now News (India); Geo (France); NCYT (Spain); Videnskab (Denmark). Read our news story.
Warmest September: Professor Ed Hawkins (Meteorology) spoke to BBC News about September's record global temperatures and impacts of global warming on extreme weather. Also covered by Yahoo News.
Other coverage