Reading in the news - Fri 9 Oct
09 October 2020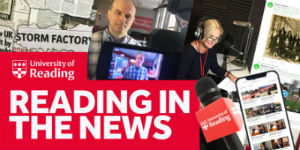 COVID-19: expert comment on the coronavirus pandemic
Dr Simon Clarke (Biological Sciences) spoke to BBC Radio 5 Live, France 24, France TV, LBC Radio, Heart Radio, BBC Radio Coventry and Warwickshire and BBC Radio West Midlands, and was quoted on BBC Radio Kent. He is quoted by Mail Online on many young people probably catching Covid-19 in a bar or restaurant; and the Science Times on calls by some scientists to pursue a herd immunity approach to the pandemic.
Professor Ian Jones (Biological Sciences) is quoted by Newsweek on how long the coronavirus can live on skin and bleached surfaces.
#WeAreTogether: Reading's work to tackle the coronavirus crisis. Read our round-up
The Reading Chronicle reports on the latest figures on confirmed coronavirus cases at the University, using the new dashboard.
Pollinator Monitoring: Coverage by BioEngineer.org and Phys.org of a new study led by Dr Tom Breeze (Biological Sciences) into the value of pollinator monitoring schemes. Read our news story.
Reading reading research: Times Education Supplement quotes Professor Rhona Stainthorp (IoE) on why following text with your finger can help develop reading skills.
Other coverage