Reading in the news - Mon 12 Oct
12 October 2020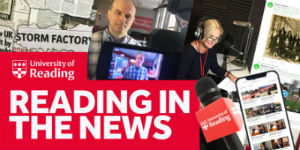 COVID-19: expert comment on the coronavirus pandemic
Dr Simon Clarke (Biological Sciences) spoke to LBC and BBC Radio West Midlands about rising infection rates. Dr Clarke is quoted by Mail Online and Express on student transmissions; and the Science Times on calls by some scientists to pursue a herd immunity approach to the pandemic.
Telegraph quotes Professor Ian Jones (Biological Sciences) about the additional effect of winter temperatures on the spread of the Coronavirus.
Dr Nikolaos Antypas (ICMA) spoke to BBC R4 Today Programme about the possibility of negative interest rates in the UK.
#WeAreTogether: Reading's work to tackle the coronavirus crisis. Read our round-up
Professor Cathy Creswell and Ruth Potts from the AnDY Research Clinic appeared on BBC R4's Today Programme (approx. 52 mins in) to discuss a new research project testing online cognitive behavioural therapy for young people with anxiety.
Sunshine: Telegraph (in print) note that 2020 is likely to be one of the sunniest years on record, and mentions the UoR's Sunshine Duration Model which has this year on "level pegging" with 1959 which is the sunniest year since records began.
Other coverage
Express report on suggestions that US Presidential candidate Joe Biden will partner with China on plans for space exploration. Professor James Green (Law) is quoted.
Archaeology.org reports on the manufacturing of purple dye in the ancient world, and quotes Professor Annalisa Marzano (Archaeology) on p5.
Further coverage of new research about bees and other pollinators and how investing in citizen science monitoring projects is worth the money, in Science Daily. Read more about the research here.
BBC Foyle and BBC Ulster report on organic farming and note UoR research on the potential effects where the UK to rely solely on organic farming. Read our news story here.

The installation of Norman the elephant skeleton in his new home in the Health and Life Sciences building is covered by BBC Berkshire.

Marlow Free Press (in print) reports on the discovery of the burial site of the 'Marlow Warlord' by a Surrey metal detectorist, which was subsequently excavated by the University of Reading archaeologists. Read our news story.
An article in Parents.com looks at the idea of earworms and quotes Professor Philip Beaman (Psychology), while reporting on disturbing suggestions that 'Baby Shark' was used to torture inmates at a US jail.
Farming Life further report on the EIT Food-funded 'Focus on Farmers' project.
An article for Public Law Today notes that six new legal firms have been appointed to complement UoR's in house team.
Reading Chronicle look back at Status Quo's performance at the proto-Reading Festival in 1972, following up with a performance at the University a few months later.