Museum of English Rural Life gets financial boost for digital engagement and programmes for local communities
12 October 2020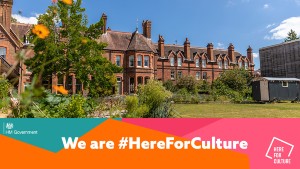 The Museum of English Rural Life (The MERL) has been awarded £74,248 by the Government to continue its popular online engagement activities, reaffirming its contribution to Reading's arts and culture scene.
The MERL is one of 1,385 cultural and creative organisations across the country receiving a share of £257 million of investment, as part of the UK Government's £1.57 billion Culture Recovery Fund (CRF).
The funding is part of the first round of the Culture Recovery Fund grants programme being administered by Arts Council England, to help face the challenges of the coronavirus pandemic. Further rounds of funding in the cultural and heritage sector are due to be announced over the coming weeks.
This additional Arts Council England support will enable the Museum to continue its much-loved digital activities and virtual school programmes, allowing people throughout the community to continue to engage with the museum and its archives.
"This new funding will enable us to sustain and explore many new opportunities" - Kate Arnold-Forster, The Museum of English rural Life
Kate Arnold-Forster, Director of The MERL, said: "This is fantastic news for all of us at The MERL. Throughout this difficult year we have had to dramatically reimagine all parts of our offer – from changing how we share our collections for digital visitors, to moving our work with local schools and the community online, and adapting our events programme to this new world of Zoom and video-conferencing.
"This has been an enormous challenge, but I am incredibly proud of the amazing work accomplished by all the Museum team. Since March, our innovative use of social media has led to our tweets and shares being seen almost 50 million times, whilst huge numbers of people continue visiting and enjoying the rich and varied content on our website.
"This new funding will enable us to sustain and explore many new opportunities. Throughout 2021 we will now be running an extensive project called 51 Voices, celebrating 70 years since the Festival of Britain and the year of the Museum's foundation through a year-long series of creative responses to our collections."
Since its foundation in 1951, The MERL has been internationally recognised as a pioneering source of curatorial insight into English rural heritage. Today, its diverse programming supports schools, local community groups, volunteers, and University students, and its innovative solutions for sharing rural history resonate online with a global audience.
The MERL was required to dramatically reimagine its offer during closure and the coronavirus pandemic, before it subsequently reopened in September. This was achieved with huge success, but the absence of visitors had a significant impact on the Museum's income generation.
During the spring 2020 lockdown, The MERL provided art and entertainment to millions through digital engagement, including challenging computer gamers to recreate 20th century farming outfits from its extensive collections.
The MERL plays a major role in the University of Reading's cultural offering, alongside its two other public museums – the Ure Museum of Greek Archaeology and the Cole Museum of Zoology – as well a range of other cultural, heritage and artistic facilities and services.
Oliver Dowden, UK Culture Secretary, said: "This funding is a vital boost for the theatres, music venues, museums and cultural organisations that form the soul of our nation. It will protect these special places, save jobs and help the culture sector's recovery.
"These places and projects are cultural beacons the length and breadth of the country. This unprecedented investment in the arts is proof this government is here for culture, with further support to come in the days and weeks ahead so that the culture sector can bounce back strongly."
Sir Nicholas Serota, Chair of Arts Council England, said: "Theatres, museums, galleries, dance companies and music venues bring joy to people and life to our cities, towns and villages. This life-changing funding will save thousands of cultural spaces loved by local communities and international audiences. Further funding is still to be announced and we are working hard to support our sector during these challenging times."