Reading in the news - Tue 13 Oct
13 October 2020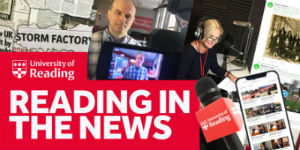 COVID-19: expert comment on the coronavirus pandemic
Dr Simon Clarke (Biological Sciences) spoke to BBC Radio 5 Live about the government's new tiered restrictions system. He is quoted by the the Times, Daily Mail and BioWorld on the reinfection case in the US; Daily Mail on the high infection rate in the north of England; and the Independent and MSN News on when the pandemic might end.
Professor Ian Jones (Biological Sciences) is quoted by Newsweek on transmission among children.
Dr Al Edwards (Pharmacy) is quoted by the Telegraph on reinfection and immunity.
Other coverage