Disaster Risk Reduction Day: Invisible hazards being ignored - expert comment
13 October 2020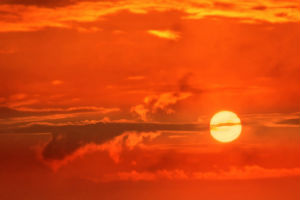 Chloe Brimicombe, an Environmental Science PhD researcher at the University of Reading, said:
"A lot of disaster risk reduction work is currently reliant on analysis of past events. However, only a limited range of hazards, like storms and floods, are currently analysed adequately, meaning less visible hazards such as temperature extremes are excluded.
"Ignoring hazards like heatwaves, cold snaps and air pollution underestimating just how vulnerable and unprepared countries are in a world where these events are becoming more and more frequent and deadly under climate change. These events can be just as life-threatening as storms and floods – up to 5,000 people could die in the UK each year due to heat by 2050.
"Communities who rely on nature for their livelihoods, for example for growing crops, need data and evidence on the climate events that most affect them, to allow them to take action to adapt. We risk badly letting down these communities by ignoring some of the most impactful hazards, and we should be engaging with local people to identify where the gaps are.
"To prepare for hazards in the future we cannot only look to the past. To take action to reduce disasters, we need both short and long term forecasts of extreme climate events. But in order to build systems to provide forecasts for hazards like heatwaves, there needs to be an understanding of the threat they pose, and that starts with robust historical analysis.
"We need a pandemic level of reporting for all extremes to better communicate the increasing risk that they all pose on an international scale. This will provide evidence for the funding of international research and appropriate responses to emergencies."