Reading in the news - Thu 15 Oct
15 October 2020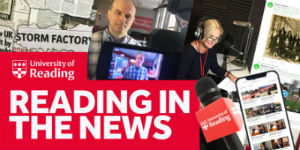 COVID-19: expert comment on the coronavirus pandemic
Dr Simon Clarke (Biological Sciences) spoke to Good Morning Britain and talkRadio this morning on local lockdowns and self-isolating; and BBC local radio stations around the country - yesterday and today - on the circuit-breaker concept. Dr Clarke was also quoted in News Week on herd immunity.
Prof Ian Jones (Biological Sciences) was interviewed by BBC Radio Oxford on how long the virus can survive on surfaces such as self-service screens in supermarkets. China Daily also quotes Prof Jones on campus outbreaks on the UK.
#WeAreTogether: Reading's work to tackle the coronavirus crisis. Read our round-up
BBC Radio Berkshire featured the Vice-Chancellor's message to students about sticking to government guidelines and interviewed Paddy Woodman, Director of Student Services on today's breakfast show. The incidents involving students were also reported on news bulletins yesterday.
MP Matt Rodda asked in Parliament yesterday why the proposed testing centre at the University of Reading cannot be sped up - featured on BBC Parliament.
The Reading Chronicle reports on the number of COVID-19 cases recorded at the University so far this academic year. The Reading Chronicle also reports on a video message from the Vice-Chancellor to students about adhering to the Rule of Six.
Natural play areas boost immunity: Prof Glenn Gibson (Food) is featured in this Guardian article on new research which shows that children's immunity is improved when playing in natural, green space as opposed to gravel yards. The article is also published by Yahoo News.
Marlow Warlord: BBC South evening news reports on the archaeological discover of the remains of a Anglo Saxon 'warlord' near Marlow. Dr Gabor Thomas (Archaeology) appears. Aldershot News and Mail (print) also covers the story. Read our news story here.
Shared housing ownership: i News republishes a Conversation article co-written by Prof Gavin Parker (Real Estate and Planning) on why increasing shared ownership won't solve the housing crisis.
Other coverage
Multiple Dutch websites have published an article about agroforestry, citing research from the University on wild pollinators.
Former PhD student Martina Droth has been named as Deputy Director and Chief Curator at the Yale Center for British Art. Art Fix Daily reports.
Super Computing Online reports on the news that Dr Rachel Newton (Maths) has been awarded some funding to study equations that have fascinated mathematicians for thousands of years, and explore how they might aid the development of encryption software to protect data from hackers.