Starting The Big Education Conversation in Reading
16 October 2020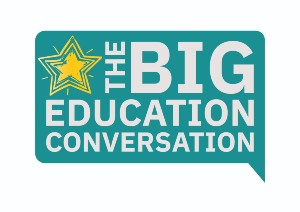 A series of online debates on key issues affecting the education sector has been announced by Brighter Futures for Children (BFfC) and the University of Reading.
The Big Education Conversation will feature academics, school leaders and students from Reading and beyond discussing the topical matters of the day.
The first online event taking place on Thursday 22 October will discuss 'Decolonising the curriculum – why Black Lives Matter in education'.
The event will be chaired by University of Reading Vice-Chancellor Professor Robert Van de Noort and speakers will include Director of Teaching and Learning at the University of Reading Prof Richard Harris, Southcote Primary School Deputy Headteacher Andrea O'Neil and students from Kendrick School.
This is the first time BFfC, which delivers education and children's services in Reading, and the University of Reading have collaborated on a live virtual event to bring the education community together.
The series of free online debates are due to take place each term and will aim to discuss issues which are of national interest and relevant to anyone working in education.
Members of the virtual audience will be invited to take part in the debates by submitting their own questions and comments.
Professor Dr Kate Reynolds, BFfC's Director of Education, said: "I am very excited that Brighter Futures for Children will be hosting The Big Education Conversation events with the University of Reading.
"We have worked closely with our schools throughout the pandemic and this is a wonderful way of bringing the education community together to discuss key issues under one virtual ceiling."
Carol Fuller, Head of the Institute of Education, University of Reading, said: "This is exactly the sort of initiative that we are keen to be a part of – the current pandemic has clearly highlighted to all just how relevant and significant education is to these bigger conversations.
"We are excited that our academics and staff – who are at the forefront of educational research – can join with our community partners in this important way."
Cllr Ashley Pearce, Reading's Lead Councillor for Education, said: "I am looking forward to some interesting and lively discussions involving a variety of academics, school leaders, teachers and students.
"The lives of everyone in the education sector have been dominated by the coronavirus pandemic this year but it is important that we consider some of the other big issues facing society and the education sector at the moment. The Big Education Conversation will give us the opportunity to do that."
The first hour-long debate in The Big Education Conversation will take place on Thursday 22 October at 6pm. Free places can be booked at: www.trybooking.co.uk/VDS.