Reading in the news - Mon 19 Oct
19 October 2020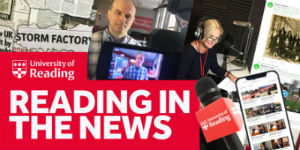 COVID-19: expert comment on the coronavirus pandemic
Dr Simon Clarke (Biological Sciences) writes for the Spectator on several aspects of the pandemic, and is quoted in a Mail on Sunday Q&A, by the Girl Sun. He also appeared on BBC South and BBC Radio Hereford and Worcestershire.
Professor Ian Jones (Biological Sciences) is quoted by Newsweek on the potential for the virus to spread in sewage.
#WeAreTogether: Reading's work to tackle the coronavirus crisis. Read our round-up
The Reading Chronicle and Wokingham Today report on the University's progress towards getting a testing centre set up on campus.

The Sunday Times mentions Dr Jane Parker's research that led to loss of taste and smell being a recognised Covid-19 symptom in a feature on cases where patients have been left with ongoing issues.
Farm robots: The Times quotes Dr David Rose (Agri-Economics) on how farming could look in the future.
Golden Dawn: Dr Daphne Halikiopoulou (Politics & International Relations) spoke to TRT World about the conviction of the leaders of Golden Dawn, a far right political party in Greece.
Other coverage
Jiangsu Broadcasting Corporation interviewed Paul Inman (Pro-Vice-Chancellor: International) about opportunities at the NUIST Academy in Nanjing, China, for students unable to travel to the UK to attend university.
The Guardian runs a picture spread of photos from the Photo Oxford Festival 2020, chaired by Paul Inman (PVC International).
BBC Radio Berkshire spoke to Visiting Fellow Stephen Burt (Meteorology) about the wettest spell ever seen in Reading earlier this month.
Get Reading quotes Dr Roger Brugge (Meteorology) in a feature looking back at the Great Storm of 1987.
BBC Radio Berkshire spoke to Dr Lily Fitzgibbon (Psychology) about why children tell fibs to their parents.
Sputnik News quotes Dr Mark Shanahan (Politics & International Relations) by on UK/US relations.
The Herald Scotland and Glasgow Evening Times mention Reading research (Economics) into the impact of playing football matches behind closed doors, in its review of the weekend's Premier League action.
Get Reading reports on a study co-authored by Reading into the threat of roads to hedgehogs.
Wokingham Today and Reading.co.uk report that The MERL has received a share of Arts Council England funding to support online engagement schemes during the pandemic. Read our news story.
Bracknell News refers to Henley Business School research revealing alternative plans for the regeneration of Bracknell town centre that ultimately did not go ahead.
China.org quotes Professor Rajneesh Narula (Henley Business School) on ongoing negotiations over a trade deal between the UK and the EU.
Business Insider reports details of Henley Business School Africa's MBA courses in a feature comparing the price of various options.
A man who lost his job during the Covid-19 pandemic but has since set up his own business referenced Henley Business School research during a BBC Radio Northampton interview showing side hustle businesses make a huge contribution to the UK economy.
Produce Business UK reports on data science techniques being used by the Institute of Environmental Analytics to help produce companies improve crop management.