Black History Month: Britain needs to face up to 'ugly truth' of its colonial past
19 October 2020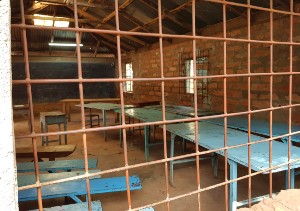 A University of Reading historian has lent her expertise to calls for Britain's colonial atrocities to be revealed in a re-telling of history.
Beth Rebisz, a History PhD student and lecturer, has been carrying out research into the effects British colonialisation had on people in Kenya, and its continued impact today.
Her work with the Museum of British Colonialism (MBC) has led her to engage in the ongoing public debate calling for the return of artefacts removed from countries under colonial rule, as well as documents and records which tell the true history of colonialism.
This is just one historical issue being highlighted by the University of Reading during Black History Month this October. Leading specialists in BAME history at Reading are publishing a series of blogs based on their research and teaching, focusing on themes such as the liberation of slaves during the American Civil War, the role women have played in conflicts, and British reggae culture.
Miss Rebisz said: "It is important to remind ourselves of the hurt and anger Britain's colonial past caused, and still causes, not only during Black History Month, but all year round. Movements like Black Lives Matter have reminded us of the injustices people face all over the world, but there is much action needed to start putting this right.
"Documents detailing Britain's colonial rule in countries across the world are part of the identity of those countries, yet the secrets they contain have largely either been destroyed or lie in the hands of the colonisers.
"For Britain to move forward and address its colonial past, it needs to confront the ugly truth about its past actions and hand over ownership of the evidence of this to the countries that suffered at its hands. Putting this truth under lock and key only perpetuates the atrocities of the past, denying countries a piece of their history and avoiding responsibility for the pain caused."
This year marks the 60th anniversary of 'the Year of Africa', when the majority of the African colonies gained independence. It is also 50th years since the end of the Biafra War in 1970, and 60 years since the end of the British counter-insurgency campaign in the Mau Mau War in 1960.
The debate over repatriating items like artwork and artefacts taken from countries by colonisers, which now often sit in museums, was brought back to the fore by the Black Lives Matter movement earlier this year.
The MBC is a joint UK/Kenyan online initiative founded to tell a more truthful account of Britain's colonial history. It recently launched digital reconstructions of British colonial detention sites in Kenya during the 1950s Mau Mau uprisings, providing a more accurate representation of this period of history and its implications today.
Part of Miss Rebisz's research has been to look at this network of internment camps, where hundreds of thousands of Kenyans were held without trial during uprisings against British colonial rule. She has interviewed some of the women who lived through this time to create an oral archive from the perspective of those affected.
The MBC is also engaging in the ongoing debate over the appropriateness of statues erected for figures in history who profited from racism and colonial atrocities like slavery.
Miss Rebisz said: "We should not view the removal of statues as erasing history, but rather making history. Unlike museum exhibits or memorials, statues are built to celebrate people, so it is right that we reconsider whether some of the figures depicted by statues are genuinely worthy of celebration."
Black history-focused virtual open day sessions were held by the University of Reading's History Department this month, showcasing some of the unique expertise Reading students have access to.
Further events being held by the University during Black History Month include a conversations about decolonising the curriculum, and online webinars inviting black students at the University to share their experiences of studying at Reading.
Find out more ways the University of Reading is marking Black History Month here https://www.reading.ac.uk/internal/staffportal/news/articles/spsn-848429.aspx
Photo caption: A repurposed school from the network of detention camps established by the British colonial government in Kenya. Credit Beth Rebisz