Reading in the news - Tue 20 Oct
20 October 2020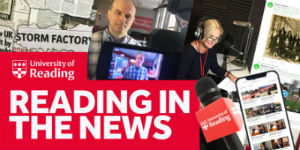 COVID-19: expert comment on the coronavirus pandemic
Dr Simon Clarke (Biological Sciences) was interviewed on Sky News' Daily Podcast and TalkRADIO about using lockdowns to limit the spread of COVID-19; on LBC about the Welsh short-term lockdown which has been syndicated across other radio stations, and BBC London about travel and COVID-19.
Telegraph quotes Professor Ian Jones (Biological Sciences) on a study about the SARS-CoV-2 coronavirus surviving on skin for many hours.
#WeAreTogether: Reading's work to tackle the coronavirus crisis. Read our round-up
BBC Essex spoke to Dr Jane Parker (Food) about her research that led to loss of taste and smell being a recognised COVID-19 symptom.
Further reports on the University's progress towards getting a testing centre set up on campus, in GetReading.
US Politics: Dr Mark Shanahan (Politics and IR) writes for the Conversation about how the US President Donald Trump's use of social media has affected politics.
Other coverage
Daily Mail reports on families who have self-funded research into rare diseases, including work at the University of Reading into motor neurone disease Duchenne.
Prof Glenn Gibson (Food) is quoted in a Nutra Ingredients article about probiotics and their potential use for children with Autism.

British Dairying (in print) report on controlling Johne's disease affecting cattle, and mentions UoR analysis of the issue.

Farm Week (in print) report on a webinar on beef farming, funded by EIT Food, and run by the University of Reading.

Research into healthier meat products that include plant-based ingredients, funded by EIT Food, is reported in the Beef Site and the Cattle Site.
Your Life Choices republishes an article in the Conversation by PhD researcher Taibat Ibitoye (Food) on considerations for switching to a plant-based diet.
Executive Fellow Campbell MacPherson (Henley Business School) writes in CEO Today about change management.
Biz Community reports on a Henley Business School Africa student who has been awarded three journalism prizes.