Reading in the news - Wed 21 Oct
21 October 2020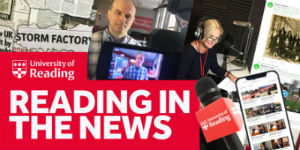 COVID-19: expert comment on the coronavirus pandemic
Dr Simon Clarke (Biological Sciences) spoke to Heart Radio about the reality of a 'circuit breaker' lockdown; Talk Radio about death rates; and BBC Radio London about testing.

Dr Al Edwards (Pharmacy) is quoted by Unherd on vaccine production.
#WeAreTogether: Reading's work to tackle the coronavirus crisis. Read our round-up
Trump presidency: An article written for The Conversation by Dr Mark Shanahan (Politics & International Relations) on Donald Trump's use of social media is republished by Wales Online and The National Interest.
Other coverage
McGill Tribune references Reading research (Economics) into the impact playing football matches behind closed doors has on results.
The Reading Chronicle reports on the Community Story Telling activities due to take place in Oxford Road in Reading, involving University partners.
Feed Navigator reports on Reading research aimed at making dairy farming in Italy more resilient to Covid-19, quoting Dr Giuseppe Nocella (Agriculture). Read our news story.