Reading in the news - Thu 22 Oct
22 October 2020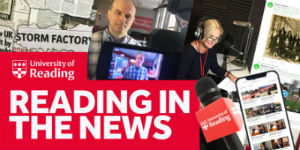 Drinking tea can reduce blood pressure: The Times (£) (front page), The Daily Telegraph (print), BBC Radio 2, The Guardian and The Daily Mail report on a new study led Prof Gunter Kuhnle (Food) which has found that people who consume a diet including flavanol-rich foods and drinks, including tea, apples and berries, could lead to lower blood pressure. The story is also featured in The Daily Mirror (print), i News, The Irish News, Metro (print), The Daily Express (print), The Independent (app edition), and MSN; as well as multiple news site in the US, including CNN Online and Yahoo, and multiple international sites, including Farm Week, Medical Xpress, Med India, Science Daily, International Business Times and Business Insider. Read our news story.
Prof Kuhnle has also written a blog for The Conversation on a new approach to nutrition research, which this study was based on.
COVID-19: expert comment on the coronavirus pandemic
Dr Simon Clarke (Biological Sciences) spoke to Sky News about the criteria needed for areas in Tier 3 to reduce restrictions; and to Times Radio (9 mins in) on vaccines. He is also quoted in The Daily Mail about infection rates in the South.
Prof Ian Jones (Biological Sciences) was quoted in The Telegraph commenting on the death of an Oxford coronavirus vaccine volunteer in Brazil. The story also appears in Yahoo News and MSN News. Prof Jones' comments were also picked up in multiple regional outlets across the country.
Antimicrobial resistance in cows: Phys.org reports on Readings' involvement in developing a new rugged field diagnostic kit which will tell farmers and vets which antibiotics to use to treat cow and buffalo mastitis. Read our news story.
Other coverage
An FT (£) (print also) article looking at volatile revenues for UK bookmakers references research from the University on the impact of no crowds on football players.
Prof Claire Collins (Henley Business School) is quoted in this Marie Claire article on why Jacinda Ardern is seen as such a successful leader.
Prof Adrian Palmer (Henley Business School) spoke to BBC Radio Berkshire about the introduction of Royal Mail's new parcel pick-up service.
CNA Insider republishes a Conversation blog by Dr Mark Shanahan (Politics) on how Donald Trump's social media use changed US politics.
The Cattle Site reports on Reading research aimed at making dairy farming in Italy more resilient to Covid-19, quoting Dr Giuseppe Nocella (Agriculture). Read our news story.
Prof Gavin Parker (Real Estate & Planning) has been named as the new chairman for the New Forest National Park Authority. Mags4Dorset reports.
Alpha Galileo reports on awards and medals being honoured by the European Geosciences Union to 51 people who have made substantial contributions to the Earth, planetary, and space sciences in the last year. Prof Giles Harrison (Met) is to receive the Christiaan Huygens Medal.