Reading in the news - Mon 26 Oct
26 October 2020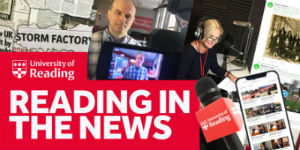 COVID-19: expert comment on the coronavirus pandemic
Dr Simon Clarke (Biological Sciences) Sky News – with clips used on a number of regional radio stations - France 24, LBC Radio, Talk Radio (twice) and BBC Radio Berkshire. He is quoted by Reuters on the failed blood plasma treatment trial; the Telegraph on trick or treating being banned in many areas of the country this Halloween; the Daily Mail on how lockdowns are being handle internationally; and Get Reading on whether a circuit breaker lockdown would work.
#WeAreTogether: Reading's work to tackle the coronavirus crisis. Read our round-up
Gender equality: Deputy Vice Chancellor Professor Parveen Yaqoob wrote a piece for Research Professional on her new role as chair of the Athena Swan Governance Committee.
Iron Age coin: The Daily Mail quotes Professor Mike Fulford (Archaeology) on an important coin discovered by a metal detectorist in a field near to the University's Silchester excavations.
Other coverage
The Guardian runs an obituary on Norman Thrower, a Reading Art graduate who went on to become a world famous cartographer.

The Belfast Telegraph references Reading research (Economics) into the impact of playing football matches behind closed doors on results.

BBC Science Focus and a number of other international websites, including Business Ghana and Suara, plus UK regional titles and Heart radio stations across the South East continue coverage of new research led by Professor Gunter Kuhnle (Food & Nutritional Sciences) showing flavanol-rich foods can lower blood pressure. Read our news story.
Professor Mark Pagel is quoted in a Quest article listing lesser-known facts about pubic hair.
Law Careers mentions the partnership between the University of Law and Reading, in an article on a new training course being offered to students at other universities.

BBC Radio Berkshire spoke to a Reading student who was organising a peaceful protest in the town about police brutality in Nigeria.

A letter to Wokingham Today from an independent Shinfield councillor discusses development in the area.