Reading in the news - Fri 23 Oct
23 October 2020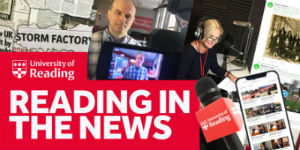 COVID-19: expert comment on the coronavirus pandemic
CNN International interviewed Dr Simon Clarke (Biological Sciences) following his opinion article in the Spectator; and Dr Clarke spoke to RTE Prime Time about Ireland's handling of the pandemic.
Dr Clarke is quoted in CNN online, Sky News, Mail Online, Reuters, Al Jazeera, and other international outlets about a trial of blood plasma to treat COVID; in iNews about managing the pandemic around Christmas, and in Mail Online about house parties which break COVID restrictions.

Professor Helen Dodd (Psychology) spoke to LBC about a new report on the impact of COVID-19 and lockdowns on children's mental health and wellbeing.

Further coverage of comments by Prof Ian Jones (Biological Sciences) in Mail Online, Mirror Online, Huffington Post, CTV, Science Times, and The Week's business briefing following the death of someone involved in a COVID-19 vaccine trial in Brazil.
The European covers a new book by Henley Business School Exec Fellow Campbell MacPherson about change management and leadership in a pandemic.
Drinking tea can reduce blood pressure: Further coverage of a new study led Professor Gunter Kuhnle (Food) which has found that people who consume a diet including flavanol-rich foods and drinks, including tea, apples and berries, could lead to lower blood pressure, in the Mirror Online, Metro, AOL, Nutra Ingredients, NDTV Food, Nutrition Insight, and Medical Daily. The study was mentioned on BBC Radio 4's Today Programme, the Jeremy Vine show on FIVE, and Prof Kuhnle spoke to BBC Norfolk about the study. Read our news story.
Green recovery: Professor Hannah Cloke (Meteorology and Geography) is quoted in articles in Xinhua Headlines and China Economic Net about commitments made at the UN General Assembly by Chinese President Xi Jinping about tackling climate change.
Other coverage