#PlanetPartners: How ECMWF and Reading work together for good
26 October 2020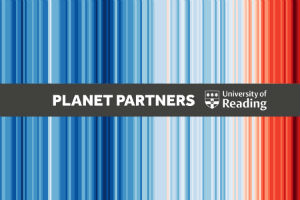 Global partnerships are more important than ever as the world seeks to 'build back greener' after the pandemic.
The University of Reading is committed to building on its strong international partnerships with environmental and research organisations, as it continues to do something about major issues such as climate change and helping the world respond to natural hazards such as floods, storms and heatwaves.
While the UK government continues negotiations with the European Union over Britain's post-Brexit relationship with the EU, the University of Reading will continue its international collaborations.
This includes firm and established links with the European Centre for Medium-Range Weather Forecasts (ECMWF), which is currently considering a UK plan to strengthen those links by establishing a new scientific centre on the University of Reading's Whiteknights campus.
Over the next fortnight, we will be highlighting examples of the superb research between the University and ECMWF and the EU-funded Copernicus programme. They show how Reading scientists are making outstanding contributions to projects that are helping many European countries, businesses and people.
These include:
Sharing success of our #PlanetPartners
We will be highlighting 10 projects such as these, every day for the next fortnight, on University of Reading social media, under the theme of #PlanetPartners.
The University invites its students, staff and all our relevant collaborators to highlight their examples of similar partnerships on social media using the #PlanetPartners hashtag. We will then collate and amplify these examples via our channels.
Professor Robert Van de Noort, Vice-Chancellor of the University of Reading, said: "With more uncertainty about the future than ever before, it is understandable that people are worried.
"I am proud that the University is continuing to do something about it, by working together with others around the world, and those international organisations such as ECMWF with whom we have strong and growing links.
"Now is the time to build on these partnerships, with an eye on the long term. I am confident that the University will continue to make a big difference to the big environmental challenges the world faces in the future."
This is a continuation of the #PlanetPartners campaign launched by the University of Reading in October 2019.
The University of Reading has recently welcomed UK moves to host a new home for ECMWF at the University's Whiteknights campus.