Reading in the news - Tue 27 Oct
27 October 2020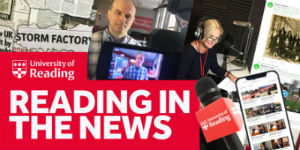 COVID-19: expert comment on the coronavirus pandemic
Dr Al Edwards (Pharmacy) is quoted in Sky News, Mail Online, The Sun, and Yahoo! News and a number of radio stations about a new study from Imperial that found that antibody levels fell rapidly in those recovering from COVID-19.
Dr Simon Clarke (Biological Sciences) spoke to BBC Radio 5 Live and BBC H&W about falling levels of antibody response, and BBC Berkshire about a new test by Boots which claims will give you a result in 12 minutes. Medscape further quote Dr Clarke on using plasma to treat COVID-19 patients.
#WeAreTogether: Reading's work to tackle the coronavirus crisis. Read our round-up
Reading Chronicle report on announcement that the University of Reading will be working with community providers to provide free meals for children around Reading Borough during half term.
Black in Cardio: Forbes reported on the International 'Black in Cardio' Week celebrating black scientists working in cardiovascular research, which was co-organised by PhD researcher Chichi Okagbue.
Other coverage
An obituary looks back at the life of pianist Eric Parkin, and notes he used to teach at Bulmershe College, in the Telegraph.
Gov.uk have published a report to the Ministry of Housing, Communities and Local Government on the impacts of neighbourhood planning, led by Professor Gavin Parker (Real Estate and Planning)

BBC Berkshire spoke to Dr Helen Parish (History) about the upcoming children's lecture on Halloween, and her research interests in witches and superstition.

Further coverage in Pharmacy Times and others of new research led by Professor Gunter Kuhnle (Food & Nutritional Sciences) showing flavanol-rich foods can lower blood pressure. Read our news story.
Research on the impact of spectators by UoR economists is mentioned in an article for Online-Casinos.com looking at the mixed results of William Hill.