Reading maintains leading position in THE World University Rankings by Subject 2021
28 October 2020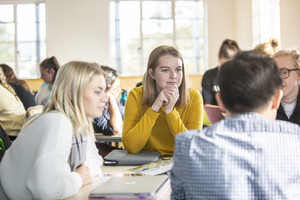 The University of Reading has continued its strong global position after being ranked among the top universities in seven subjects in the Times Higher Education World University Rankings by Subject in 2021.
In the latest rankings published today [Wednesday 28 October], Reading improved its position in three out of the seven tables it was ranked in, placing in the top 125 ranked institutions in the world for Education, and Business and Economics.
Vice Chancellor of the University of Reading, Professor Robert Van de Noort said:
"I am pleased to see that this latest set of subject rankings reflects the University of Reading's strength across a breadth of disciplines. We are proud to continue to span a range of subjects, and the interdisciplinary nature of some of our research is a testament to the benefits of our commitment to excelling in more than one area.
"Of course, the best evidence of our success comes from the example of our colleagues, students and graduates who are doing something about some of the biggest challenges that the world is facing, from climate change to COVID-19.
"I am immensely proud that our community is having a positive impact on the world, and we will continue to do what we can to provide an environment for all to flourish and continue that impact in the future."
The full list of subjects for the University of Reading are:
101–125 in Business and Economics (2020: 151-175)
101–125 in Education (2020: 126-150)
126–150 in Arts and Humanities (2020: 151-175)
126–150 in Physical Sciences (2020: 126-150)
151–175 in Life Sciences (2020: 151-175)
151–175 in Psychology (2020: 151-175)
401–500 in Computer Science (2020: 401-500)
<!--[if !supportLists]-->

Elsewhere, Agriculture at the University of Reading was ranked in the top ten in the world in the QS World Rankings by subject for 2020 for the fifth year in a row. In the QS World University Rankings by Subject 2020, Reading was ranked among the world's top 200 higher education institutions in 12 subjects, including top 100 ranking in Archaeology, Architecture/Built Environment, and Environmental Sciences.

Read more about the QS World Rankings by Subject 2020 here.