Reading in the news - Wed 28 Oct
28 October 2020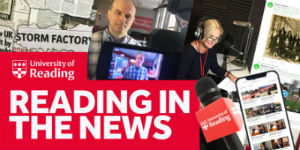 COVID-19: expert comment on the coronavirus pandemic
Dr Simon Clarke (Biological Sciences) spoke to ITV Meridian News about the latest developments; talkRadio about the REACT antibody prevalence study; BBC Radio Manchester about the rule of six; and BBC Radio West Midlands about following Government guidelines. Dr Clarke was also quoted in Russia Today for a piece on trick or treating in the UK.
Dr Al Edwards (Pharmacy) is quoted in The Sun and a Press Association article that appears in hundreds of local news outlets around the country about the REACT antibody prevalence study. Dr Edwards is also quoted in The Epoch Times and multiple medical outlets, including MD Edge and The Hospitalist; and spoke to BBC Radio Berkshire this morning about the calls for a national lockdown.
Prof Ian Jones (Biological Sciences) is quoted in a Daily Mail article on taking aspirin to reduce the severity of COVID-19.
#WeAreTogether: Reading's work to tackle the coronavirus crisis. Read our round-up
The Reading Chronicle reports on the latest COVID-19 cases at the University. The Chronicle (print) also reports on a VC message to students about following Government guidelines.
Other coverage
Prof James Green (Law) is quoted in The Express for an article about how future US space exploration is linked to Trump's re-election.
Phys.org covers a study which involves Reading scientists that has found a strong link between tropical rainfall and nearby sea temperatures. Read our news story.
Study advisor, Sonia Hood, is quoted in this Prospects article on tips for successful group working.
Further coverage in The Daily Star (print) of new research led by Professor Gunter Kuhnle (Food & Nutritional Sciences) showing flavanol-rich foods can lower blood pressure. Read our news story.
The Reading Chronicle (print) covers the news that Reading Borough Council has been awarded £9,000 from Historic England for four 'community storytelling' projects in the local area. The University was involved in the project.