Reading in the news - Fri 30 Oct
30 October 2020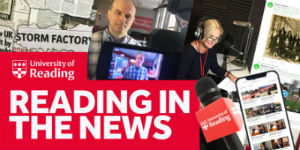 COVID-19: expert comment on the coronavirus pandemic
Dr Simon Clarke (Biological Sciences) was interviewed on BBC News Channel, BBC Radio 2, BBC Look North, BBC Radio London; and his comments on News Channel were used on BBC Radio 4's PM and the World Tonight, across the BBC radio network via Radio 5 Live, and through the day on BBC Radio Oxford.
Financial Times and the Irish Times quotes Dr Clarke about the possibility of another national lockdown, and is also quoted in Politico about rising case numbers.
Professor Ian Jones (Biological Sciences) is quoted in the Times about research suggesting that the current wave of infections is caused by a mutation of the coronavirus first seen in Spanish farm workers; and in Newsweek about a reinfection of a Brazilian doctor.
Research by Professor Uma Kambhampati (Economics) about how well female leaders have managed the pandemic is reported in Bloomberg.
#WeAreTogether: Reading's work to tackle the coronavirus crisis. Read our round-up
Reading Chronicle (in print) report on the opening of the new COVID-19 testing centre on the London Road campus.
Pterosaur evolution: Further coverage of a new study by Professor Chris Venditti, Dr Joanna Baker and Dr Andrew Meade (Biological Sciences) about the evolution of pterosaurs, giant winged reptiles that lived alongside the dinosaurs, in CBBC Newsround, Science Daily, and News 18 Buzz. Read our news story and watch our video.
Other coverage
Russia Today spoke to Emeritus Professor Kevin Warwick about cybernetics.
Further coverage of research about the positive effects of flavanol-rich foods is mentioned by the Daily Express (in print).
New Food magazine report on a new EIT Food-funded project to help young people reduce food waste. Dr Natalie Masento (Food and Psychology) is quoted.
PhD researcher and noted architect Piers Taylor's latest work is featured in the RIBA Journal, who reference his work with UoR students in the report.
Eastern Daily Press report on UoR French and IR student Lauren Reid Edwards, who has been recognised by Care UK for her volunteer work at a care home in Norfolk during lockdown.
<!--[if !supportLists]-->