The Museum of English Rural Life to reopen
01 September 2020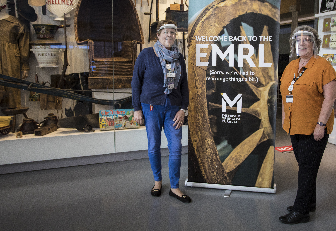 After almost six months of closure, The Museum of English Rural Life (The MERL) will reopen its doors and welcome back visitors on Tuesday 8th September 2020.
Visitors will be able to return to The MERL galleries, the popular shop and café, beautiful urban garden, and reading room. A range of new measures have been introduced to ensure a safe and welcoming- environment for all. Just in time to celebrate Heritage Open Days, The MERL's reopening coincides with the return of Reading Museum, with whom they form Museums Partnership Reading, a partnership support by Arts Council England.
A new booking system is up and running from today, 1 September, as all visitors to the Museum must now pre-book a free timed entry in advance. This is so that visitor numbers can be monitored, social distancing can be maintained, and visits to The MERL can be enjoyed with peace of mind.
Further health and safety measures include the introduction of hand sanitiser stations, a new one-way route throughout the galleries, and contactless payments in the shop and cafe. The spacious garden means that most cafe seating has been moved outside and 'crop circles' for socially distanced picnics have appeared on the lawn!
All these changes are clearly indicated by brand-new signage and outlined in detail on The MERL website. Our friendly team will be available to answer any questions both during a visit or before via email and social media.
All of the new measures mean that The MERL has achieved VisitEngland's 'Good to Go' status, meaning that visitors can return with confidence.
While The MERL has been closed, a lively online programme of events has been delivered for audiences both near and far, and visitors have been able to enjoy a virtual visit to the museum. Over the coming months, this diverse digital programme will continue so The MERL's offer will be accessible to everyone, and face to face events will resume later in the year.
Kate Arnold-Forster, Director of The MERL and Head of the University of Reading's Museums and Special Collections, said: "Throughout this extraordinarily difficult year and The MERL's closure, we have focused on the many different ways in which we have been able to support and entertain our (digital) visitors and audience. But all of us at The MERL have missed our visitors hugely. And we are all incredibly excited to welcome Reading back to the Museum and to return to being part of the wonderful cultural life of the town. We've had to rearrange things slightly to welcome everyone back safely, but the warm and friendly welcome and wonderful visitor experience will still be just the same."