Reading in the news - Tue 1 Sep
01 September 2020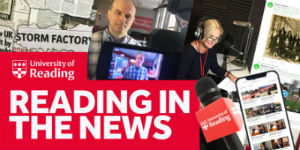 #WeAreTogether: Reading's work to tackle the coronavirus crisis - find out more
- Henley Business School Africa is offering scholarships in management for frontline healthcare workers who have been fighting coronavirus in hospitals, reports South Africa's Talk Radio
COVID-19: expert comment on the coronavirus pandemic
- Big News Network (Aus), Australian Times, republishes Professor Uma Kambhampati's (Economics) Conversation blog, and Kashmir Observer, South Philly Review, Public Radio International, Women's Agenda (Australia), Asharq Al-Awsat (Saudi), Bangladesh Post covers the study about female leadership during the covid crisis. Read our news story.
- Dr Simon Clarke (Biological Sciences) Dr Simon Clarke (Biological Sciences) was interviewed on ITV Evening News on the infection risk on aeroplanes; Sky News, LBC Radio and BBC Radio Foyle about universities reopening; took part in a BBC Radio 5 Live phone in and spoke to Heart Radio Berkshire on health risks of schools returning; TalkRadio on infection numbers overseas and possible lockdown in France, again on infection rates in the UK, and again on using social media to encourage testing among younger people). Dr Clarke was also quoted in the Daily Mail as England's R rate rises above 1; the New Scientist on the low risk of infection to children; the Daily Mail on a lower UK death rate; the Daily Mail on reasons why people refuse to wear face masks; and The Times (in print) on why exercising outdoors reduces infection risk compared to indoors.
- Professor Ian Jones (Biological Sciences) is quotes in the Daily Mail and other media on reports coronavirus affects men's testicles. He pours cold water on the claims.
Reading Festival:
- Musicians shared their memories of last year's Reading Festival on BBC Radio 1 to mark the weekend it was meant to take place until its cancellation due to COVID-19 restrictions, including Enter Shikari frontman Rou Reynolds who explained how the band worked with Reading climate scientists Professor Ed Hawkins (Meteorology) to display global warming data on the main stage. Read our news story.
- Professor Adrian Palmer (Henley Business School) also spoke to The Breeze FM about the financial impact of Reading Festival not taking place this year due to COVID-19 restrictions on mass gatherings.
Other coverage
BBC News Channel's Weather Watch feature interviewed Professor Ed Hawkins (Meteorology) about his Rainfall Rescue project earlier this year, as part of a piece looking at how archived scientific records can inform research today. Read our news story.
The Times (in print, Saturday) reports on a study led by Dr Tijana Blanusa (Agriculture) showing growing ivy up walls keeps buildings cool in summer and warmer in winter.
Daily Mail quotes Dr Darius Widera (Pharmacy) in an article on unregulated stem cell treatments.
The Economist (in print) quotes an Institute of Education master's student, Yun Zhen, on the relative benefits of studying Mandarin.
Joe Vaughan (The MERL) spoke to BBC Radio Berkshire about their tongue-in-cheek bid to sign footballer Lionel Messi.
BBC Radio Cornwall mentioned Emeritus Professor Kevin Warwick (Cybernetics) implanting a microchip in his own body as part of research in the 1990s.
Reading Chronicle reports that Professor Vitaliy Khutoryanskiy (Phramacy) has been named best PhD supervisor in the UK. Read our news story.
Reading FC reports on statistical analysis by the University of the club's historical league success.
Hindustan Times quotes Akshay Deoras (Meteorology) on the latest progress of the Indian monsoon.
Ethical Marketing News highlights two Reading projects, including one by the Institute for Environmental Analytics, receiving UK Space Agency funding. Read our news story.
For more news from the University see www.reading.ac.uk/news-and-events/news/about-newsevents.aspx
See more research stories on the Connecting Research blog https://research.reading.ac.uk/research-blog/