Reading in the news - Wed 2 Sep
02 September 2020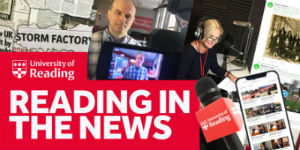 COVID-19: expert comment on the coronavirus pandemic
Dr Simon Clarke (Biological Sciences) is quoted by New Scientist on pupils returning to schools; and The Times on exercising outdoors lowering the risk of COVID-19 transmission;
Professor Ian Jones (Biological Sciences) is quoted by The Sun on the possible effects of COVID-19 on men's testicles
Food and Drink Matters quotes Dr Washika Haak-Saheem (Henley Business School) on how changes of habits during the COVID-19 lockdown could be good for the environment.
A-levels:
Dr William Bailey-Watson (IoE) spoke to BBC Radio Berkshire about the pros and cons of delaying next year's A-level and GCSE exams to allow students to catch up following COVID-19 lockdown disruption.

The Boar quotes Professor Mark Fellowes (Pro-Vice-Chancellor for Academic Planning and Resource) on the prospect of a government bailout for universities following the changes to A-level grading.
Roads and birds: Dr Manuela Gonzalez-Suarez (Biological Sciences) is quoted by the Daily Mail and MSN News on Cambridge research into the impact of roads on birds.
Other coverage