Reading in the news - Fri 4 Sep
04 September 2020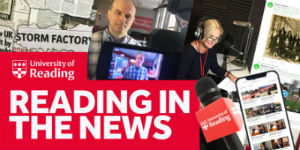 Novichok agents: Further coverage of expert comment by Prof Gary Stephens (Pharmacy) about Novichok, a group of nerve agents reportedly used to poison Russian opposition politician Alexei Navalny, in Reuters, MSN New Zealand, The Star Malaysia and other international titles. Read expert comment from Profs Stephens and Laurence Harwood (Chemistry) here.
Sussex royals: Comments by Talent Agency chief Jonathan Shalit, who is a visiting professor at Henley Business School about a new deal that Harry and Megan have agreed with Netflix is widely reported including in Mail Online, MSN News, Herald Scotland, Shropshire Star, Reading Chronicle, and other local titles.
COVID-19: expert comment on the coronavirus pandemic
Dr Simon Clarke's (Biological Sciences) is quoted in Mail Online and other titles about suggestions that lockdowns should be based on hospital admission data rather than case numbers.
Further coverage of research into how female world leaders are doing better than male counterparts in coping with the pandemic, as Science Alert reproduces a Conversation article by Prof Uma Kambhampati (Economics).
<!--[if !supportLists]-->

Other coverage
An open letter published in the Times sees academics including UoR staff reject UCU calls for no face-to-face teaching due to the COVID-19 pandemic.
Further coverage of a new study that suggests that bilingualism may lead to better brain structures as children develop, in Science Daily, MedIndia, and Technology Networks. Read our news story here.
ITV Meridian evening news covers the welcome story that the University's Museum of English Rural Life will reopen to the public on 8 September. Read our news story.
Further mentions of UoR and Royal Horticultural Society research suggesting that ivy plants help to cool buildings, in the Daily Express (in print).
New research about the impact of aviation on man-made climate change is reported in Engineering and Technology. Dr Laura Wilcox (Met) is quoted.
<!--[if !supportLists]-->