Gut-Brain research boost with new industry partnership
04 September 2020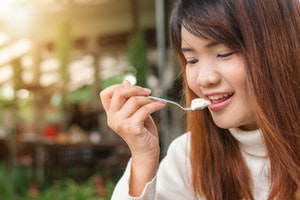 How our guts influence how we think will be the focus of a new research partnership between the University of Reading and Dutch company Winclove Probiotics.
The new partnership is sponsoring research which will be looking at how probiotics can positively influence cognitive function and mood outcomes in humans and which biological changes, such as neurotransmitters or hormones may underpin any observed effects.
A PhD student Jess Eastwood has started a three year study under supervision of principal investigators Dr Daniel Lamport and Professor Claire Williams (Psychology and Clinical Language Sciences), and Dr Gemma Walton (Food and Nutritional Sciences) to look at this. The results of the study will contribute to the development new probiotic formulations.
Dr Daniel Lamport, an Associate Professor in Nutritional Psychology at the University of Reading said:
"This is an exciting new partnership which combines our strengths as a leader in the research of the gut microbiome with nearly 100 years of study in the field of Psychology. The gut-brain axis is right at the frontier of science at the moment with potential to help us understand how we can improve mental health and maximise our cognitive abilities. We are looking forward to working more closely with Winclove Probiotics who bring global expertise and reach to further explore the gut-brain axis together."

The collaboration aims to gain more insight into how probiotics can improve brain functionality. Winclove has been involved in one of the earliest human studies showing positive effects of probiotics on mental health (Steenbergen et al. 2015). Others have shown similar benefits on vulnerability to depression and emotional and cognitive processing following probiotic intake.
However, the working mechanisms by which probiotics can influence mood, cognition or other brain processes, are still unclear. Following key studies into nutritional psychology at the University of Reading, the new partnership was formed to further develop an understanding of the mechanics involved in the ways that food and drink that humans consume affects the way we think.
Coline Gerritsen, Director of Research and Development at Winclove Probiotics said:
"We are thrilled to collaborate in this explorative project with Jess Eastwood as it provides the unique opportunity to strengthen our research and development activities in the gut-brain area. We believe that their extensive knowledge on the impact of nutrition on the gut microbiome and cognitive function, combined with our expertise in the development of evidence-based multispecies probiotic food supplements will provide a solid basis for the further development of probiotic food supplements that can positively impact brain health."