Reading in the news - Mon 7 Sep
07 September 2020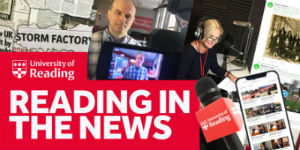 COVID-19: expert comment on the coronavirus pandemic
Dr Simon Clarke (Biological Sciences) spoke to Sky News, LBC Radio and Times Radio about rises in cases in parts of the UK, with clips played on other radio stations around the UK, including talkRADIO; and is quoted by New Scientist on transmission risk in workplaces.
Visiting Associate Professor Ben Neuman (Biological Sciences) is quoted by the Daily Mail, Mirror, The Express, the iPaper and Yahoo News and more than 100 regional news titles, including Berkshire Live, on the evidence for and against winter bringing about a spike in cases; and by BBC News, Daily Mail, MSN News, and several other publications on antibody tests potentially picking up dead Covid-19 cells in patients, leading to false positive results.
Professor Ian Jones (Biological Sciences) is quoted by Daily Mail, Yahoo News and MSN News on the promising testing results for a new Russian vaccine.
Professor Sue Walker (Typography & Graphic Communication) is quoted by the Financial Times and iPaper on effective ways of visually communicating safety guidance during pandemics.

Dr Mark Shanahan (Politics & International Relations) spoke to BBC Radio 5 Live and BBC Radio Berkshire, with the 5 Live clips played on BBC Radio 4 and many BBC regional stations round the country about quarantine rules for travellers being different in different parts of the UK due to devolved powers brought in by Labour in the 1990s.

IFL Science reports on research led by Professor Uma Kambhampati (Economics) showing countries with female leaders have seen lower death rates during the pandemic. Read our news story.
Dr Syan Sellayah (Biological Sciences) is quoted by the Daily Mail on why obese people are more at risk from Covid-19.
Guardian University Guide: The 2021 rankings list Reading in 62nd place (up from 68). See the full rankings here.
Four-day week: Wired covers research by Henley Business School into the benefits of a four-day working week. Read the Henley news story.
Other coverage
liveMint report on a virtual reality tool created by Professor Eddie Obeng (Henley business School) which offers a virtual campus for teaching and working, as part of a feature on online office working.
Wokingham Paper reports on Professor Vitaliy Khutoryanskiy (Pharmacy) being named PhD Supervisor of the Year by FindAUniversity. Read our news story.
The Sun and BBC Radio Somerset reported on research led by Christos Pliatsikas (Psychology) showing bilingual children lose less brain power when they are older. Read our news story.
The reopening of The Museum of English Rural Life on the London Road campus was mentioned in a BBC Radio Berkshire interview with Reading Borough Council's lead councillor for Culture, Heritage and Recreation. Read our new story.

BBC Radio Berkshire interviewed former Reading students, Scottish composer Julian Wagstaff, Roxy Music saxophonist Andy Mackay, and Olympic rower Cath Bishop – about their fond memories of the University and their subsequent careers in an hour-long feature on well-known graduates.

Farming Life reports that Professor Martin Lukac and David Humphries (Agriculture) will be speakers at a virtual farm walk today as part of the EIT Food 'Focus on Farmers' series.
House Beautiful mentions University of Reading and the Royal Horticultural society research showing ivy is the best wall plant for cooling buildings.