University takes part in electric waste vehicle trial
07 September 2020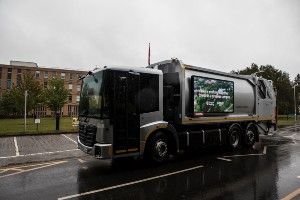 The University of Reading has continued its commitment to reducing its carbon footprint by taking part in a trial of one of the first fully electric waste collection vehicles in the UK.
The University's waste contractor, Select Environmental, took delivery of the fully electric truck for a two-day trial in late August, understood to be one of only two such vehicles in the UK.
The truck was trialled on the University's Whiteknights campus over two days, with encouraging results.
Philip Stone, Managing Director at Select Environmental, said "The vehicle lived up to our expectations. It worked well and performed to our requirements and importantly the drivers were extremely impressed in its abilities and ease of use. We definitely see this as an inevitable addition to our fleet and its initial adoption into the University of Reading's service."
Dan Fernbank, Energy & Sustainability Manager at the University, said "We were only too pleased to be part of this important trial of fully electric waste vehicles. This demonstrates how far electric vehicle technology has progressed in the last few years, and we are pleased to see our waste contractor taking a lead in trialling options for a cleaner, greener fleet."
Reading-based Select Environmental are soon due to open a new Materials Recycling Facility (MRF) south of the town. The building includes 50 kW of solar panels (184 panels), which can help to deliver a truly zero carbon waste collection service to the University in the future.
The University recently took delivery of its first fully electric maintenance vehicle, which it will be monitoring closely to assess the viability of a wider rollout for its fleet.
In 2019, the University produced 942 tonnes of waste; recycling 51%, with less than 1% going to landfill. The total volume of waste produced per person at the University reduced by 15.5% between 2016 and 2019.
Some of this information was displayed in a video that played on a screen on the side of the truck as it completed the trial on campus.