More than £500k British Academy funding awarded to Reading postdoctoral research projects
07 September 2020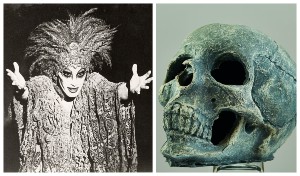 Two University of Reading researchers have been awarded a total of more than half a million pounds , and how ancient tragic theatre is being used to explore LBGTQI+ identities today.
The British Academy announced 36 new Postdoctoral Fellowships to outstanding humanities and social science early career researchers in the UK on Wednesday (9 September). These included Dr Claire Hodson and Dr Oliver Baldwin at Reading.
Dr Hodson was awarded £308,000 to support her project using new methods of skeletal analysis to explore the lives of the youngest members of our past societies, documenting their brief but important experiences.
Bones excavated from archaeological sites can tell us about the person's lifestyle, offering clues as to what society was like at the time. The new project aims to use osteological methods to explore evidence of ill health, as well the prevalence of prematurity, small-for-gestational-age, and still births in different communities from Britain, spanning from the Iron Age through to the 20th century.
In addition to their health and birth outcomes, the way babies were treated in death will add to a tapestry of understanding how such variables impacted and shaped these young lives.
Dr Hodson said: "The earliest moments of our lives are often seen as hugely important to our futures, yet we still know little about how infants in past communities were affected by ill health, maternal well-being and cultural practices in the social worlds they were born brought up in.
"This will be the first study to comprehensively consider survival, health and the experiences of babies and young children in Britain in the past."
Dr Baldwin was awarded £280,000 to support his Queer Tragedy project, investigating why ancient tragic theatre has been frequently used to explore modern LGBTQI+ identities.
He will look at how queer artists have used themes of gender ambiguity, political questioning and disturbance of normativity in ancient Greek and Roman tragic performances since 1969 to examine what it means to not conform or fit heterosexual binary identities.
Dr Baldwin said: "Ancient tragedy has had a huge influence on subsequent cultures and has been used to explore pressing issues for centuries. One issue that has become particularly well explored in recent decades is queerness, with tragedy used by queer artists around the world to enact and understand their own LGBTQI+ identities, challenge hierarchies and question the idea of conformity.
Funded by the Department for Business, Energy and Industrial Strategy, the Postdoctoral Fellowships Scheme is the British Academy's flagship programme of awards for early career academics based at universities throughout the UK.
The three-year awards enable outstanding early career scholars to strengthen their experience of research and teaching in a university environment. The primary emphasis is on completing a significant piece of publishable research, giving award holders a base on which to build a successful academic career.
This year's round of awards supports research projects in areas ranging from the transition to farming in the Mesolithic period to adolescence in Medieval Europe and from the impact of violent conflict on youth in Sudan to law and regulation in the emerging 'femtech' industry.
Hetan Shah, Chief Executive of the British Academy, said: "I congratulate each of our new postdoctoral fellows for their hard-earned success in this competitive scheme.
"The British Academy champions the humanities and social sciences and supporting the next generation of academics is crucial to ensuring these disciplines' future health and vitality. These awards provide talented scholars with the independence to pursue new areas of research and the confidence and skills to advance their careers on solid foundations.
"Many of the scheme's past awardees have achieved a lasting, positive impact on their specialist fields with research that has remained a touchstone throughout their careers."
"The British Academy wishes this year's Postdoctoral Fellows every success in their research."