Reading in the news - Tue 8 Sep
08 September 2020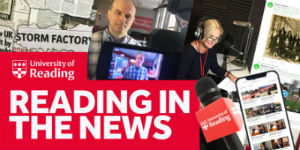 WeAreTogether: Reading's work to tackle the coronavirus crisis
COVID-19: expert comment on the coronavirus pandemic

Dr Simon Clarke (Biological Sciences) is quoted in Mail Online about further increases in the numbers of cases and deaths in the UK, in the Daily Mail about a potential treatment for COVID-19 by filtering blood.
Further coverage of comments by visiting Associate Professor Ben Neuman (Biological Sciences) in the Daily Mail and ITV News about how a second wave may not hit the UK until spring due to the impact of cold weather creating 'mini-quarantines'.
Novichok: Professor Gary Stephens (Pharmacy) spoke to Euronews about the poisoning of Russian opposition politician Alexei Navalny with nerve agent Novichok.
Other coverage
An article published in The Conversation by Dr Thomas Grisaffi (Geography) looks at changes to policies in Bolivia to tackle cocaine farming, and is republished in Yahoo! Canada.
A trial of electric bin lorries by the University of Reading's waste contractor is covered in the Reading Chronicle and Business and Innovation. Read our news story about the scheme here.

Further coverage of the reopening of The Museum of English Rural Life on the London Road campus, on BBC Radio Berkshire.

Nursery World cover research by Dr Natthapoj Vincent Trakulphadetkrai (Education) about the use of picture books to support maths learning.

A report on ways to tackle anti-microbial resistance from the dairy industry in Cow Management mentions testing carried out at the University of Reading.

It's Nice That report from the London Design Festival where former UoR lecturer Ken Garland received London Design Medal's Lifetime Achievement award.
A roundup of Heritage Open Days around Reading includes a mention of the 'Nine lives of the Ure Museum's Mummified Cat Head' exhibition, in GetReading.