Reading in the news - Wed 9 Sep
09 September 2020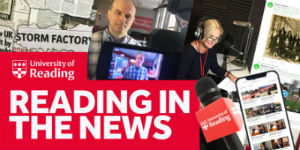 #WeAreTogether: Reading's work to tackle the coronavirus crisis
Deputy Vice-Chancellor Professor Parveen Yaqoob spoke to BBC Radio Berkshire about how the University is preparing to prevent the spread of Covid-19 on campus, amid criticism of young people by the government.

Research co-authored by Reading academics (Economics), showing reducing crowd sizes in football stadiums is unlikely to be enough on its own to control the spread of Covid-19, is reported by talkSPORT, The International News, Medical Xpress and the Irish Examiner, and mentioned in stories in the Independent and Yahoo News on an outbreak after a charity football match. Read our news story.
COVID-19: expert comment on the coronavirus pandemic
Dr Simon Clarke (Biological Sciences) spoke to talkRADIO, BBC Wales, BBC Surrey (and again on Weds morning) and BBC London about rising rates of infection in the UK. He is also quoted in New Scientist, The Sun and Mail Online.
Quotes from earlier in the pandemic from Professor Ian Jones (Biological Sciences), explaining why ibuprofen had been removed as a suggested drug to treat Covid-19, are reported by the Mail Online after a study showed the drug does not increase risk of serious illness from the disease.
Climate change: Physics World quotes Professor Richard Allan (Meteorology) on what impact the Covid-19 lockdown has, or hasn't had, had on global climate change.
Other coverage