Reading in the news - Thu 10 Sep
10 September 2020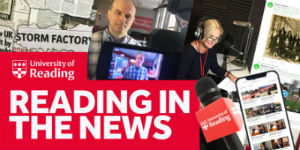 #WeAreTogether: Reading's work to tackle the coronavirus crisis
​Further coverage of research by Professor Uma Kambhampati (Economics) about the effectiveness of world leaders during the pandemic. in France 24, International Business Times and more than 50 other international titles.
Deputy Vice Chancellor Professor Parveen Yaqoob is quoted in Research Professional News about how the HE sector has been preparing for the new academic year in difficult circumstances including how A Level results were handled.
A blog on HEPI about student accommodation mentions the University of Reading's agreement with UPP.
COVID-19: expert comment on the coronavirus pandemic
Dr Simon Clarke (Biological Sciences) spoke to Good Morning Britain, Russia Today, BBC 5 Live, and BBC Scotland about latest developments.
Professor Ian Jones (Biological Sciences) is quoted in The Times, Mail Online, New York Times, Newsweek and other titles about the Oxford-Astra Zenica vaccine trial pausing.
The Economist (£) quotes Dr Al Edwards (Pharmacy) about positive news in the search for a vaccine.
Being old: History Extra look at what it would have been like to grow old in the medieval period, and quotes from a book by Professor Roberta Gilchrist (Archaeology).
Other coverage
Comments by Prof Hannah Cloke (Met and Geography) are included in a BBC Radio 4 report about rising emissions and climate change.

The Telegraph covers an environmental activist turned pro-nuclear power supporter Zion Lights, a University of Reading graduate.

A repeat of Digging for Britain on BBC Four includes a dig at Marden Henge led by UoR.