Reading in the news - Fri 11 Sep
11 September 2020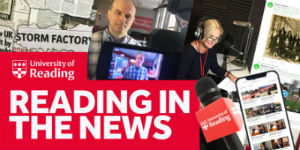 #WeAreTogether: Reading's work to tackle the coronavirus crisis
Deputy Vice-Chancellor Professor Parveen Yaqoob explained the new government guidelines for universities and how Reading is preparing for the return of students this month on ITV Meridian and BBC Radio Berkshire.
Professor James Reade (Biological Sciences) was interviewed on a Deutsche Welle podcast about his research suggesting that sporting fixtures with fewer fans still lead to higher Covid-19 infections. The research is also covered by MSN News, Reading.co.uk and Sunderland Echo. Read our news story.
Research co-authored by Professor Ludovica Serratrice (Clinical Language Sciences), showing children started using second languages learnt from their parents more during lockdown, is covered by the New York Times.
COVID-19: expert comment on the coronavirus pandemic
Dr Simon Clarke (Biological Sciences) spoke to BBC Radio 5 Live about different countries' approaches to the pandemic; BBC Radio 2 about the UK Prime Minister's 'Moonshot' testing strategy; and BBC Radio Kent about the latest government guidance. He is also quoted by New Scientist.
Dr Al Edwards (Pharmacy) spoke to Channel 5 News about Covid testing in the UK, and is quoted by the Independent on a new study into Covid-19 immunity.
Football returns: Forbes mentions research co-authored Dr Carl Singleton (Economics), looking at the accuracy of different sources of football score predictions, in a piece previewing the new English football season, which kicks off this weekend.
Other coverage
Berkshire Live refers to Reading's expertise in weather records in a piece on warm temperatures expected this autumn across Berkshire.
Hindustan Times quotes PhD student (Akshay Deoras) on the heavy rain predicted for Mumbai.
Farm Week and Impartial Reporter covers the EIT 'Focus on Farmers' Virtual Walk event, where Professor Martin Lukac and David Humphries (Agriculture) were speakers.