Reading in the news - Mon 14 Sep
14 September 2020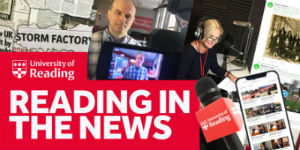 #WeAreTogether: Reading's work to tackle the coronavirus crisis
An interview with Deputy Vice Chancellor Professor Parveen Yaqoob features in an ITV Meridian article about the new academic year.
COVID-19: expert comment on the coronavirus pandemic
Dr Simon Clarke (Biological Sciences); to Sky News and BBC Radio London about the new 'rule of six' and is quoted in various COVID-19 stories including in the The Times, Mail Online, The Sun, Yahoo! News, New York Times, and Sydney Morning Herald.
Dr Clarke also spoke to ITV News about the death of a man in February who had COVID-19; and to TalkRADIO, TRT World (no link), BBC Berkshire and BBC Radio Hereford and Worcester about the rising R0 rate.
An opinion piece in the Times calling for a rethink to how crowds are handled in Irish sporting fixtures cites Prof James Reade's (Economics) paper about COVID-19 cases and sporting attendance.
Board Agenda have published an article by Professors Andrew and Nada Kakabadse (Henley Business School) about returning to places of work.
Youtube speak: Prof Jane Setter (English Language & Applied Linguistics) is quoted in an article in the Guardian (and in the Observer in print) about children copying accents and slang popular online.
Other coverage
Prof Hannah Cloke (Meteorology/Geography) spoke to CGTN about the effect of climate change affecting british farmers who have seen one of the worst harvest in decades.
The Times reports on the possible effect of certain foods to reduce anxiety, and cites research about flavanol-rich berries. Dr Daniel Lamport (Psychology) is quoted.
PhD researcher Simon Lee is quoted in the Telegraph and The Sun about UK skies turning orange due to Californian wild fires, and that it was unlikely that the smell of burned wood travelled from the US.

Newry Democrat (in print) further report on the EIT Food-funded 'Focus on Farmers' virtual tour of a beef farm available online.

Dr Roger Brugge (Met) is quoted in an article about a rainfall record held in Maidenhead, in GetReading.
The International Cocoa Quarantine Centre is included in a GetReading article about "incredible" Reading facts.
Hampshire Chronicle cover the history of a small Hampshire railway station in a new book which was laid out by Reading graduate Tim Underwood.