Reading in the news - Tue 15 Sep
15 September 2020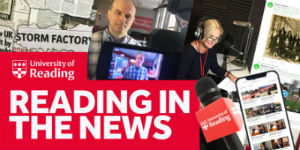 #WeAreTogether: Reading's work to tackle the coronavirus crisis. Read our round-up.
Professor Rodney Jones (English Language and Linguistics) spoke to BBC Radio Berkshire about his new project looking at how communication with international students during the pandemic can be improved in order to better support them. Read our news story.
COVID-19: expert comment on the coronavirus pandemic
Dr Simon Clarke (Biological Sciences) spoke to LBC Radio, with clips later used in news bulletins on XFM and other shows, (and again this morning) and talkRADIO about the current problems with Covid-19 testing in the UK. He is also quoted by New Scientist on the rise in the UK's infection rate and the Irish Daily Mail on a new blood filtering treatment being developed.
Dr Al Edwards (Pharmacy) is quoted by the Daily Mail and spoke to BBC Radio Berkshire about confusion around testing and symptoms.
Discovering the past: Professor Mary Lewis (Archaeology) spoke to BBC Radio Berkshire about the Britain's Biggest Dig programme on BBC Two and her own career.
Alien life: Professor Chris Scott (Meteorology) spoke to BBC Radio Berkshire about a new discovery of signs of potential life on Venus.
Other coverage
Dr David Rose (Agriculture) has a piece published by The Conversation, looking at how the increase in technology in farming could result in a loss of traditional knowledge and lifestyle. Read our news story.

Professor Chris Scott (Meteorology) is quoted in a Hakai Magazine article on how a space weather event could have been partly to blame for the sinking of the Titanic in 1912.

The Reading Chronicle reports that Reading has risen in the Guardian University Guide 2021 rankings.
A public discussion about the role young people can play in tackling climate change with Professor Chuks Okereke (Environmental Science), arranged by International Climate Change Development Initiative, is reported by Africa News Circle.
Professor Rajneesh Narula (Henley Business School) is quoted by China.org and Xinhua Net, on the UK seeking to overrule parts of the Withdrawal Agreement deal reached with the EU over Brexit.
PhD student Akshay Deoras (Meteorology) is quoted by the Hindustan Times on the forecasts for heavy rain in Mumbai.