Reading in the news - Wed 16 Sep
16 September 2020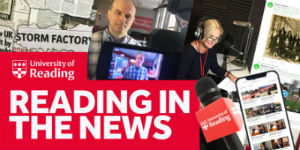 COVID-19: expert comment on the coronavirus pandemic
Dr Simon Clarke (Biological Sciences) spoke to LBC News about the current problems with Covid-19 testing in the UK, and is quoted in Huffington Post and Yahoo! News about how risky certain activities are for catching COVID-19.
Comments by Dr Al Edwards (Pharmacy) about immune responses to COVID vaccine trials are included in the print edition of the Economist.
Modern Diplomacy report on Professor Uma Kambhampati's (Economics) research about how women world leaders are outperforming male counterparts in response to the pandemic.
Biodiversity loss: Articles in the Times (in print) and Yorkshire Post (in print) about a UN report about biodiversity loss quote Professor Tom Oliver (Biological Sciences).
Titanic: Comments by Professor Chris Scott (Meteorology) about how a space weather event could have been partly to blame for the sinking of the Titanic in 1912 appears in a Mail Online article.
Other coverage
Professor Chris Scott (Meteorology) spoke to BBC Berkshire about the discovery of clues that there may be life on Venus.

The National Interest have republished a blog for The Conversation by Dr David Rose (Agriculture) looking at how the increase in technology in farming could result in a loss of traditional knowledge and lifestyle. Read our news story about his study.

Wokingham Paper (in print) reports on the reopening of the MERL to visitors.