Reading in the news - Thu 17 Sep
17 September 2020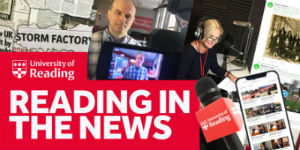 COVID-19: expert comment on the coronavirus pandemic
Prof Ian Jones (Biological Sciences) was quoted in The Guardian, MSN News and Yahoo News UK for articles looking at what we now know about COVID-19.
Dr Simon Clarke (Biological Sciences) spoke to ITV This Morning, BBC Scotland and BBC Sussex about testing and increasing cases around the UK.
Biodiversity loss: The Daily Mail quotes Prof Tom Oliver (Biological Sciences) in an article about a UN report about biodiversity loss. Prof Oliver was also interviewed on Iranian TV (3min40s in).
UK inflation: Dr Nikoloas Antypas (ICMA Centre) is featured in an The Express looking at how low inflation rates are impacting people's finances. This article is reproduced on multiple news aggregation sites.
Other coverage
Dr Mark Shanahan (Politics and IR) was interviewed for the China Plus News' podcast and to Sputnik News about the UK's Internal Markets Bill.
A new EIT Food-funded online course about the human microbiome co-developed at UoR is reported on Alpha Galileo.
University Business have announced the shortlist for the College and University Business Officers (CUBO) Awards 2020, with UoR being shortlisted for Innovation in Catering.